Memorandum No. 56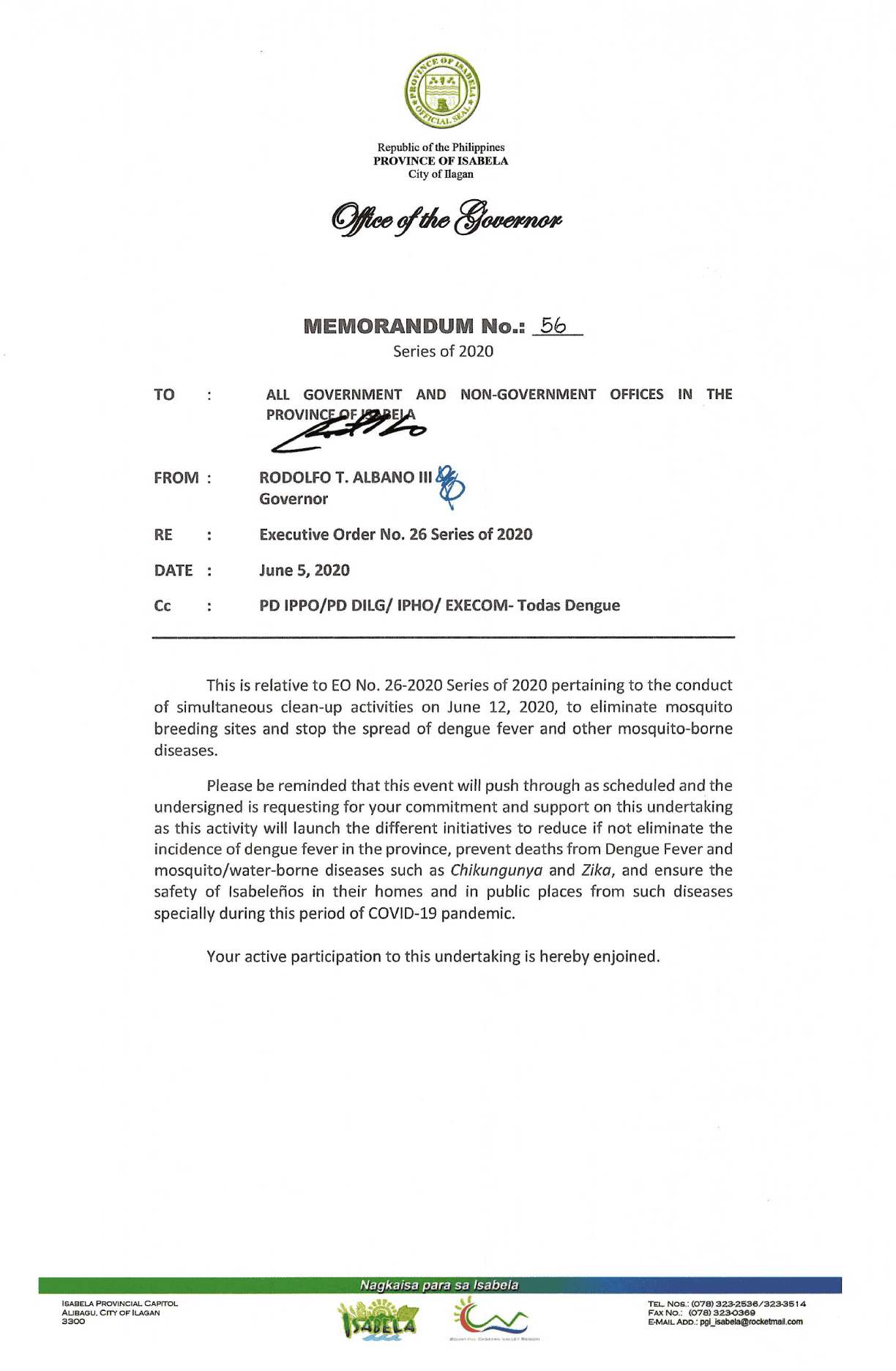 Memorandum No. 57
ISABELA REAPPORTIONED TO 6 LEGISLATIVE DISTRICTS;
SIX CONGRESSMEN NOW REPRESENTING THE PROVINCE AND THE
SANGGUNIANG PANLALAWIGAN NOW COMPOSED OF 12 ELECTED MEMBERS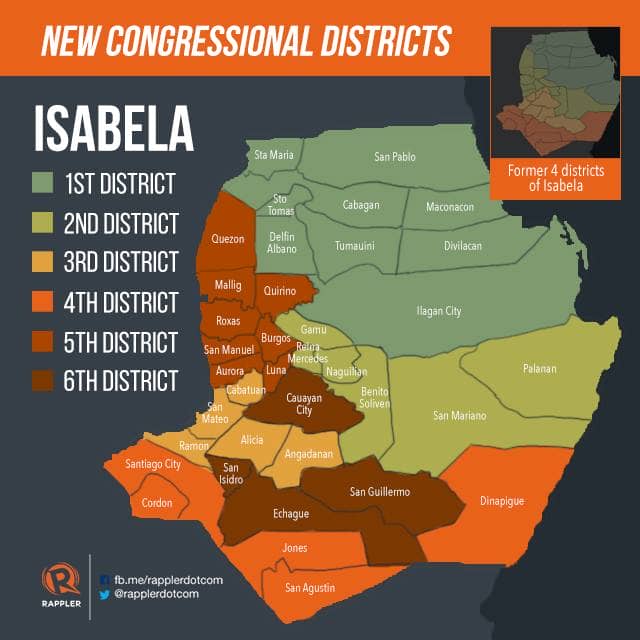 President Rodrigo R. Duterte, on September 27, 2018 signed into law, Republic Act 11080, An Act Reapportioning the Province of Isabela into Six (6) Legislative Districts.
The first district is now composed of the City of Ilagan and the towns of Cabagan, Delfin Albano, Divilacan, Maconacon, Tumauini, San Pablo, Sta. Maria and Sto. Tomas.
The second district is comprised of Benito Soliven, Palanan, Naguilian, Reina Mercedes, San Mariano and Gamu; while the third district is made up of Alicia, Cabatuan, San Mateo, Ramon and Angadanan.
Santiago City, Cordon, Dinapigue, San Agustin and Jones make up the fourth district. The fifth district is composed of Aurora, Burgos, Luna, Mallig, Quezon, Quirino, Roxas, and San Manuel; while Cauayan City, Echague, San Guillermo, and San Isidro comprise the sixth legislative districts.
The Act, establishing the additional 5th and 6th districts of Isabela originated in the House of Representatives. It was passed by the House of Representatives on May 28, 2018, amended by the Senate on September 3, 2018, and which amendments were concurred in by the House of Representatives on September 10, 2018.
The Inauguration and Oath-taking of the 26th Governor of Isabela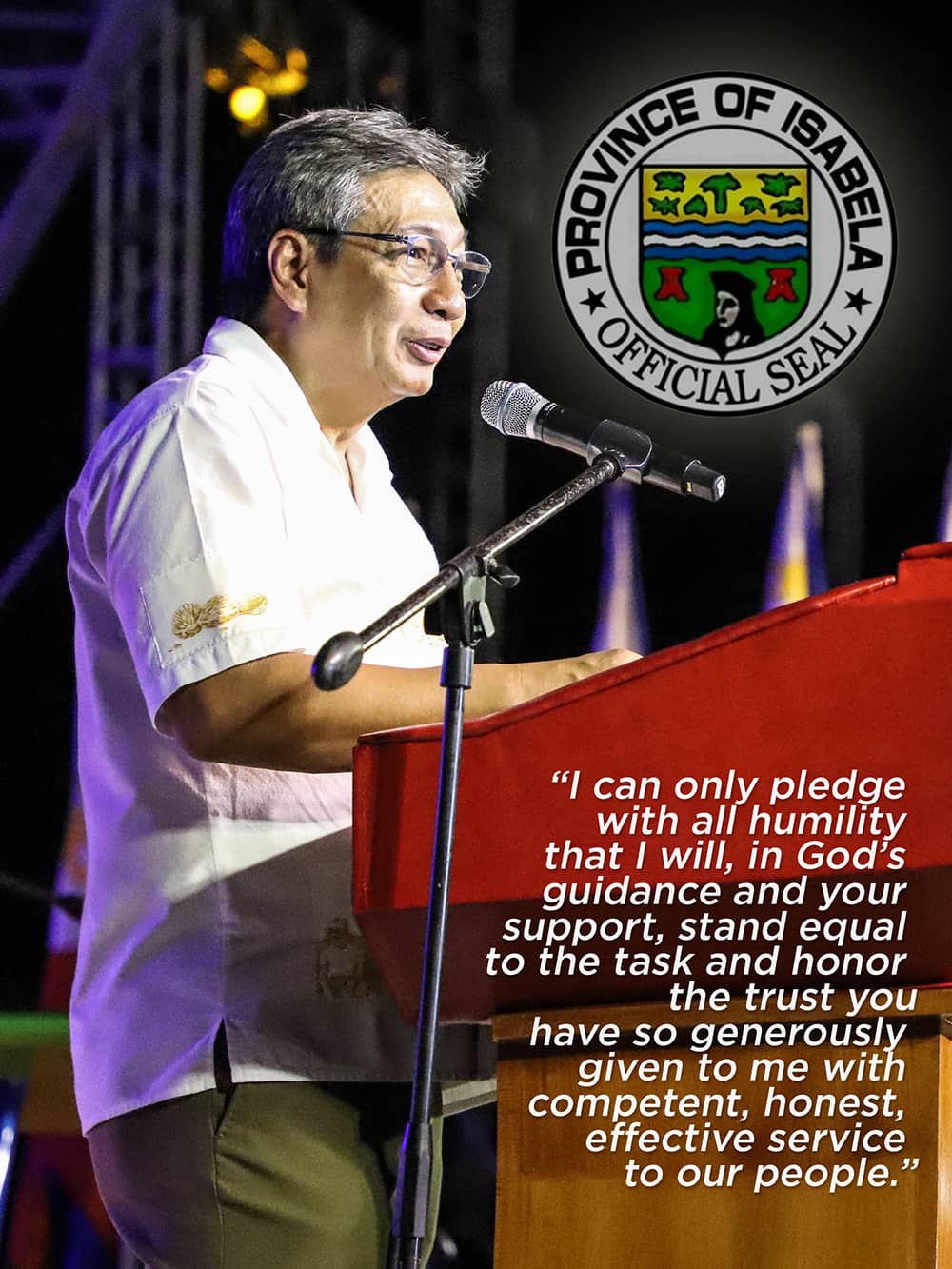 "We can, and we will build the future that Isabela deserves. Let us rock the boat to make great things happen in Isabela," was a remarkable statement of faith and resolve of Governor Rodito T. Albano III in front of elected officials and the people of Isabela during his inauguration as the 26th governor of the province, held at the Queen Isabella Park on June 30, 2019. The oath was administered before the people by the outgoing governor, Hon. Faustino Dy III.
The governor administered the oath of the vice governor, elected mayors and board members while the new vice governor administered the oath-taking of vice mayors and town councilor in the province.
The simultaneous oath-taking ceremony was graced by Senator Maria Lourdes "Nancy" S. Binay who returned to his father's roots and opted to take her oath here. She was sworn into office by Punong Barangay Maricon Padillo of San Pedro, Tumauini and Punong Barangay Ariel Tabangcura of Alibagu, City of Ilagan. The lady senator was accompanied by members of her family including her father, former Vice President Jejomar Binay who hails from Cabagan, Isabela. Sen. Binay, in turn, administered the oath for the honorable members of the House of Representatives and the members of the House of Representatives and the members of Sangguniang Panlalawigan of Isabela. "I am proud to be recognized as the Senator from the Province of Isabela during the 18th Congress, and I will continue to cherish the support you gave me," she said in her speech.