Gov. Rodito Albano distributes Portable Oxygen to 1,018 barangays
Emergency Hotlines
IMPORTANT NUMBERS TO SAVE!
Please save the following hotline numbers in case of an emergency.
Kindly refrain from making prank calls to these numbers. Such calls can prevent people with real emergencies to ask for help.
GFNDY Advisory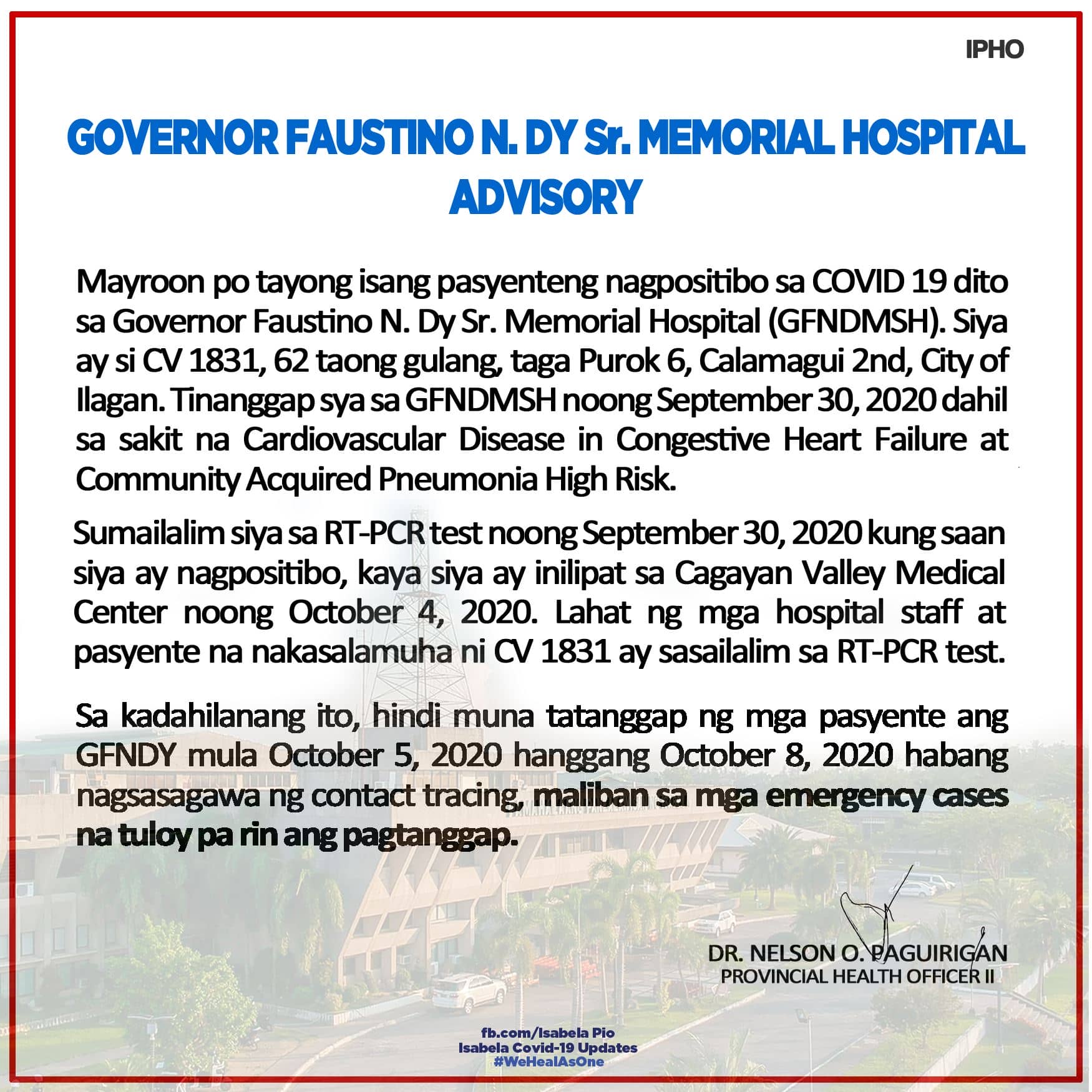 GFNDY Hemodialysis Center Blessing & Inauguration
Governor Rodito T. Albano III and Rev. Fr. John Couvruer lead the blessing and inauguration of the Gov. Faustino N. Dy, Sr. Memorial Hospital-Hemodialysis Center yesterday (September 30, 2020) at Calamagui 2nd, City of Ilagan, Isabela together with Isabela Provincial Health Officer and GFNDY Hospital Chief Dr. Nelson Paguirigan. The GFNDY Hemodialysis Center is 1st of the 4 Dialysis Centers to be opened in the province to cater the growing need of the Isabeleños for the said treatment. The center has already 10 full operational Dialysis Machines ready for occupancy and service, but all in all the center can house 39 dialysis machines in full operation. Manned by newly hired hemodialysis nurses headed by Dr. Imelda Amoroso-Nephrologist, the center is now on the final stage of completion of requirements for the Department of Health (DOH) certification and it aims to deliver a free dialysis service to the Isabeleños. Governor Rodito also expressed his gratitude to the people who have assisted in the realization of the hemodialysis center and to Dr. Baggao for the free medical assistance to the Isabeleños going to CVMC and for the Doctors and Specialists deployed in Isabela Hospitals. He also announced the upcoming opening of 3 more Dialysis Centers, in Cabagan, Echague and Cauayan City to complete the dialysis center program of the province. He commended the doctors and nurses who prepared the center and expressed his appreciation to the Crucified Christ wounded with blood displayed at the entrance of the dialysis center that is very significant for Christ's blood cleanses the soul while the center cleanses the blood. He ended his message by asking the center's staff and workforce to maintain the cleanliness and orderliness of the facility. Dr. Glenn Matthew Baggao Chief Cagayan Valley Medical Center also graced the activity as partner of the GFNDY in the delivery of quality healthcare service, in his message he informed the governor and the people of the Specialists deployed by CVMC to Isabela Hospitals to extend services and assistance to the medical needs of the Isabeleños and promised to continue helping the IPHO. Dr. Emmanuel Salamanca OIC Chief of SIMC was also present and expressed his joy for the facility and said, "malaking tulong ito sa mga pasyente Isabeleño.