Executive Order No. 28 - 2018
SUSPENDING CLASSES IN PUBLIC AND PRIVATE SCHOOLS IN ALL LEVELS IN THE PROVINCE OF ISABELA ON OCTOBER 29, 30, & 31 AND WORK IN ALL GOVERNMENT AND PRIVATE OFFICES ON THE 30TH AND 31ST OF OCTOBER 2018 TO ENSURE THE SAFETY OF ALL STUDENTS AND RESIDENTS IN THE PROVINCE DURING THE LANDFALL OF TYPHOON "ROSITA" AND TO FACILITATE POST DISASTER ACTIVITIES IN THEIR RESPECTIVE VICINITY AND URGING ALL RESIDENTS TO BE VIGILANT AND TO ASSIST IN PROMOTING PUBLIC SAFETY DURING THE OCCURRENCE OF THE TYPHOON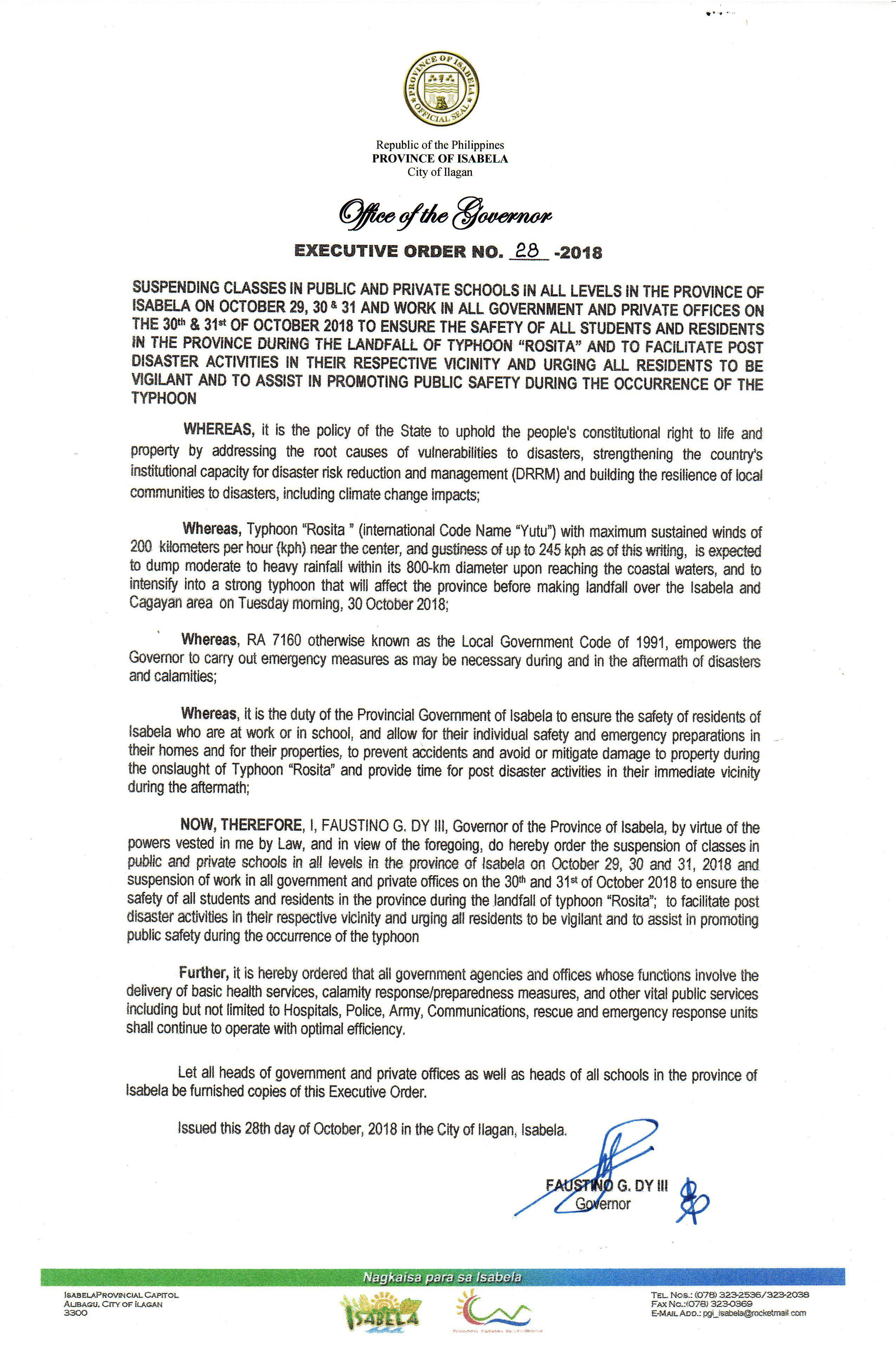 ISABELA tops SGLG Awards for the 4th year in a row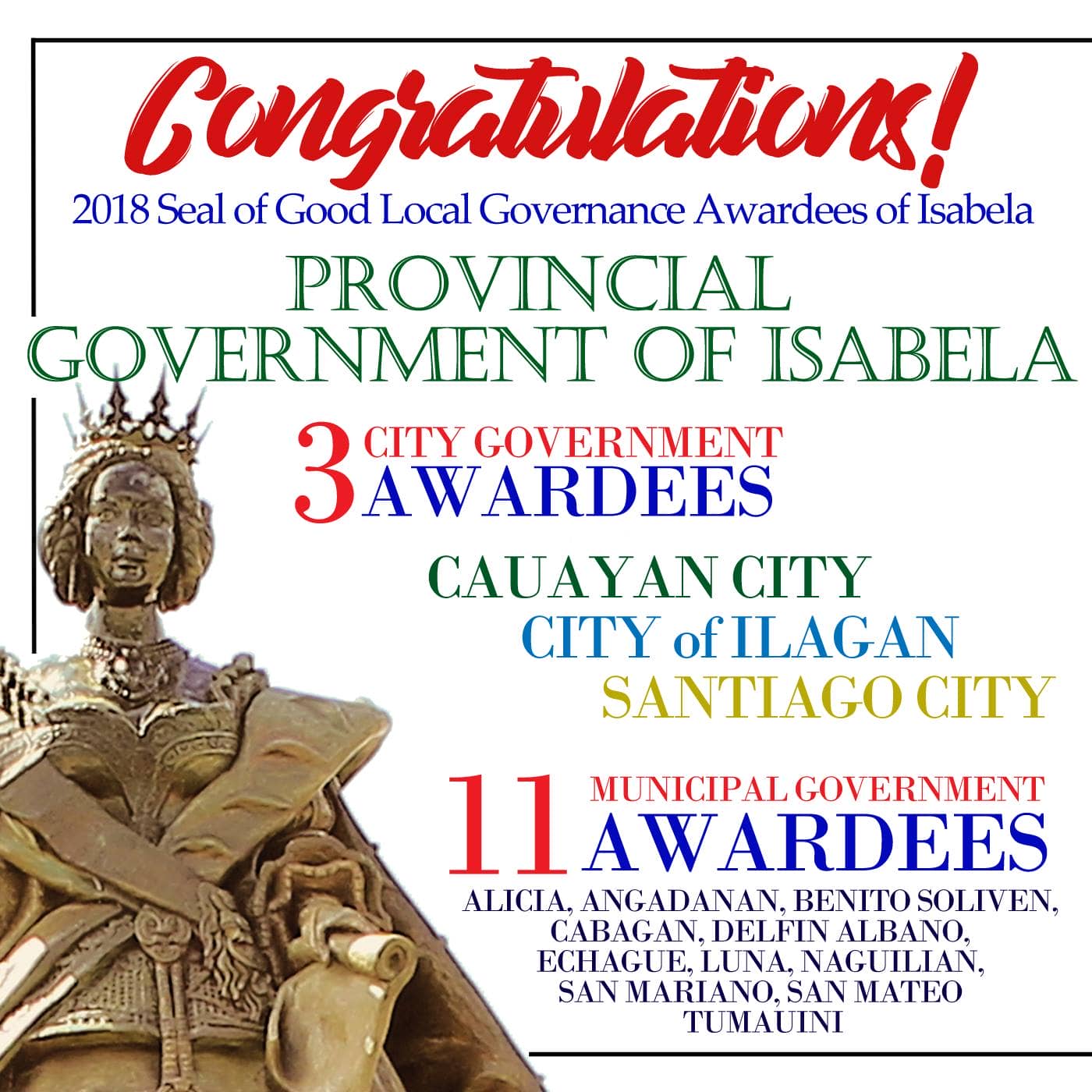 The Provincial Government of Isabela is now Seal of Good Local Governance (SGLG) awardee, FOUR times in a row, having copped the most coveted "Seal" in 2015, 2016, 2017 and 2018.
The "Seal" symbolizes integrity and good performance of Local Government Units. It is a continuing challenge for provincial, city and municipal governments to do better today and in the years to come in terms of financial administration, disaster preparedness, social protection, and peace and order, plus essential criteria such as business friendliness and competitiveness, environmental management and protection, tourism, culture and the arts.
Isabela is now under State of Calamity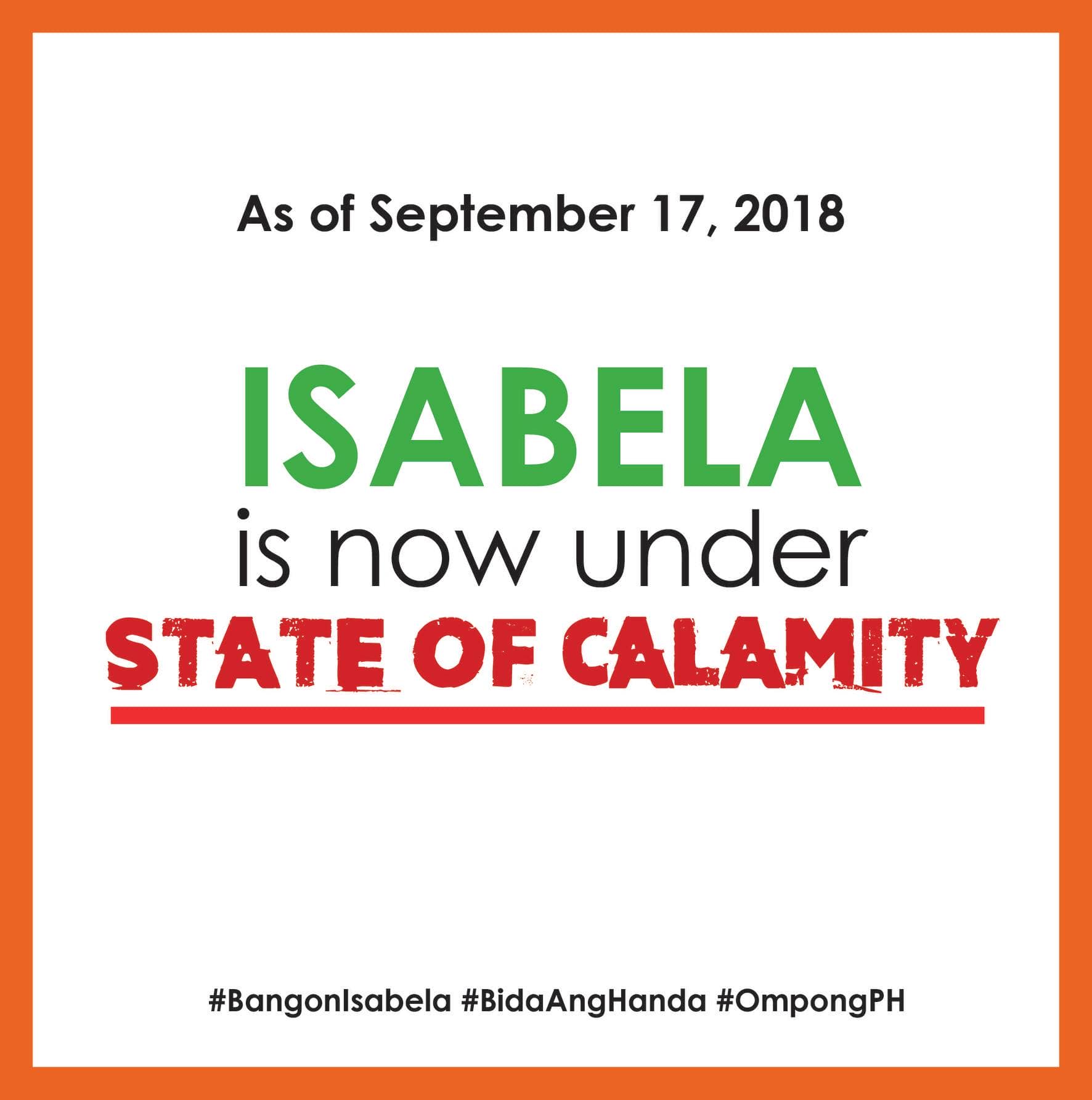 September 17, 2018 (City of Ilagan, Isabela) - The Sangguniang Panlalawigan ng Isabela presided by Vice Governor Tonypet Albano in its emergency session today, declared the Province of Isabela under the State of Calamity due to Typhoon Ompong. A resolution declaring the province under the state of calamity has been passed in its first, second, third and final reading after the typhoon devastated the province on September 13 to 15.
In its situation report, the Isabela Provincial Disaster Risk Reduction and Management Office reported an initial damage of P 3.6 billion to agriculture and infrastructure. Typhoon Ompong cost the province P1.9 billion in rice losses, P1.6 billion in corn, P61 million in assorted vegetables, P1.1 million in bananas, and P294,250.00 in fisheries. Damage to infrastructure which includes roads, bridges, school buildings and other public buildings reported an initial damage of P57.5 million.
Meanwhile, the provincial board expressed its gratitude to the Philippine National Police, Philippine Army, BFP, Philippine Red Cross, and all active member agencies of the Isabela Provincial Disaster Risk Reduction and Management Council following the "Zero Casualty" report in the province.