Page 3 of 11
BRO LUSOG
BRO LUSOG (Laban sa Undernutrition, sa Sakit, Obesity at Gutom) sa Barangay Program
PROGRAM OVERVIEW
Malnutrition, and in particular protein-energy malnutrition (PEM) in young and growing children have become one of the serious health problems in Isabela. Malnutrition is regarded as a complex outcome with multiple causation. It can have adverse effects on the physical and mental development of growing children. Malnutrition remains a serious obstacle to child survival, growth and development in the Province of Isabela.  This scenario prompted the Isabela Provincial Government to conceptualize a program to address it. Thus, the birth of BRO LUSOG Program which was launched on July 3, 2015 during the Farmers Congress held in San Agustin, Isabela as the 13th component of BRO-Small Farmers Assistance Program of the Provincial Government.
 The program is implemented for six months in all the barangays of the different municipalities of Isabela. Within the six month-period, each undernourished child whose weight is validated by Isabela Provincial Health Office (IPHO) Nutrition staff is expected to receive nutritionally-balanced meal with the use of "Gourmix", a  cereal food enrich with nutrients such as  rice, white corn mixed, texturized vegetable protein and other essential vegetables (malunggay, ground munggo and turmeric ginger). With its high level of protein, anti-oxidant properties and excellent nutritional values, this Supplemental Feeding Program will ensure that malnourished children will receive proper nutrition along with their regular meals. The Office of the Provincial Social Welfare and Development (PSWD) is responsible for the distribution of "Gourmix" used in feeding at the Barangay Health and Day Care Centers.
 Cognizant of the fact that the success of this program lies in the concerted efforts of a number of provincial offices, along with the IPHO and PSWD, during Farmers Congress, the Offices of the Provincial Agriculture and Veterinary (PAIWI program)  distribute different vegetable seedlings  and chicks respectively, to enrolled families believed to help sustain the nutritional needs of these children as sources of vitamins, minerals and protein.
 Finally, identifying poverty as one of the causes of malnutrition, if not the main, another component of the program is the Nutrition Subsidy of P3,000.00 as a monthly assistance of P500.00  for the six- month period upon satisfying the BRO LUSOG Program requirements.
GOALS AND OBJECTIVES
The BRO LUSOG aims to solve the problems of malnutrition among 0 to 5 years old by rehabilitating their nutritional status through feeding programs, financial subsidy and provision of backyard vegetable gardening, livestock and poultry raising in all 34 municipalities and two cities.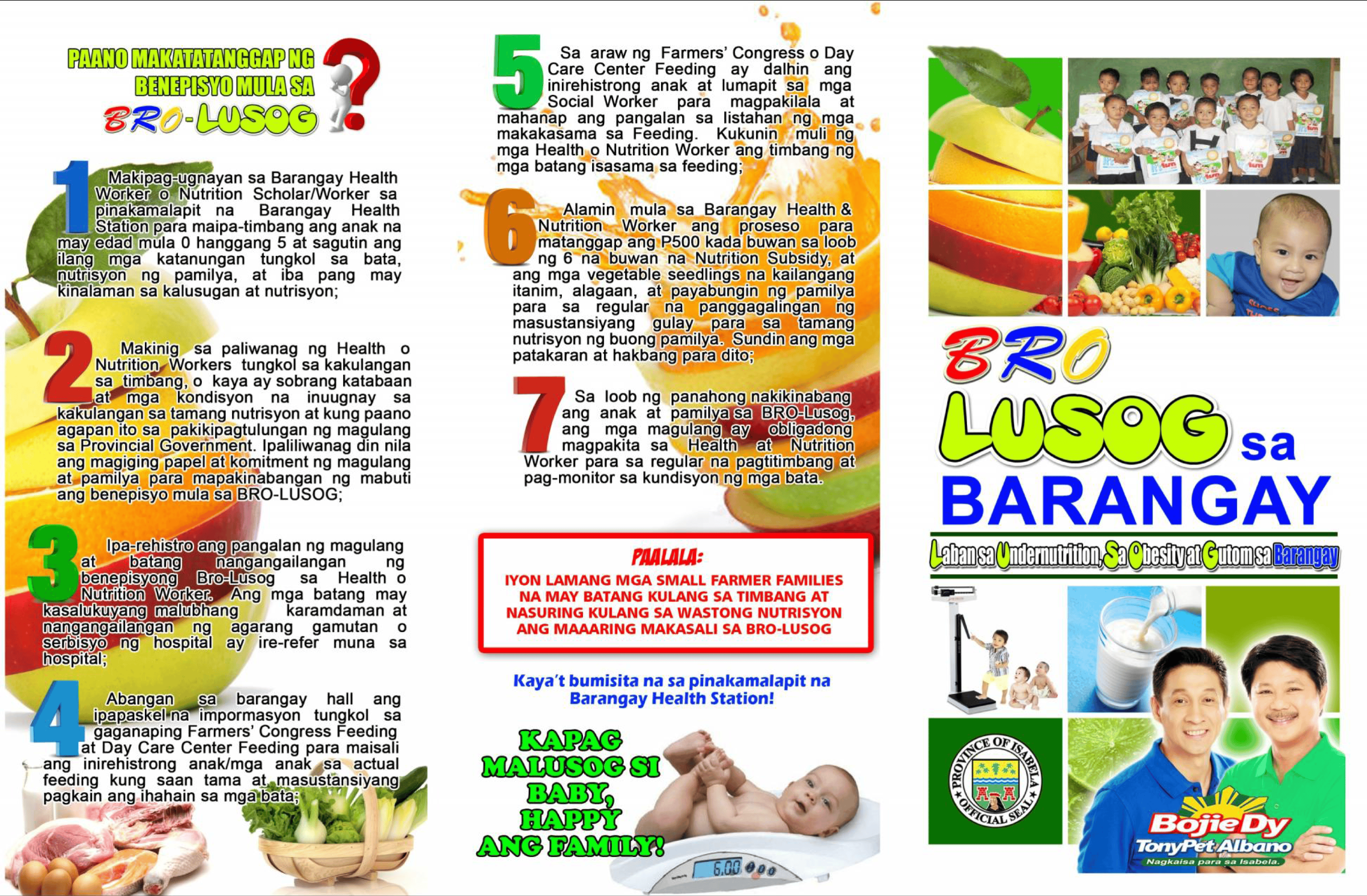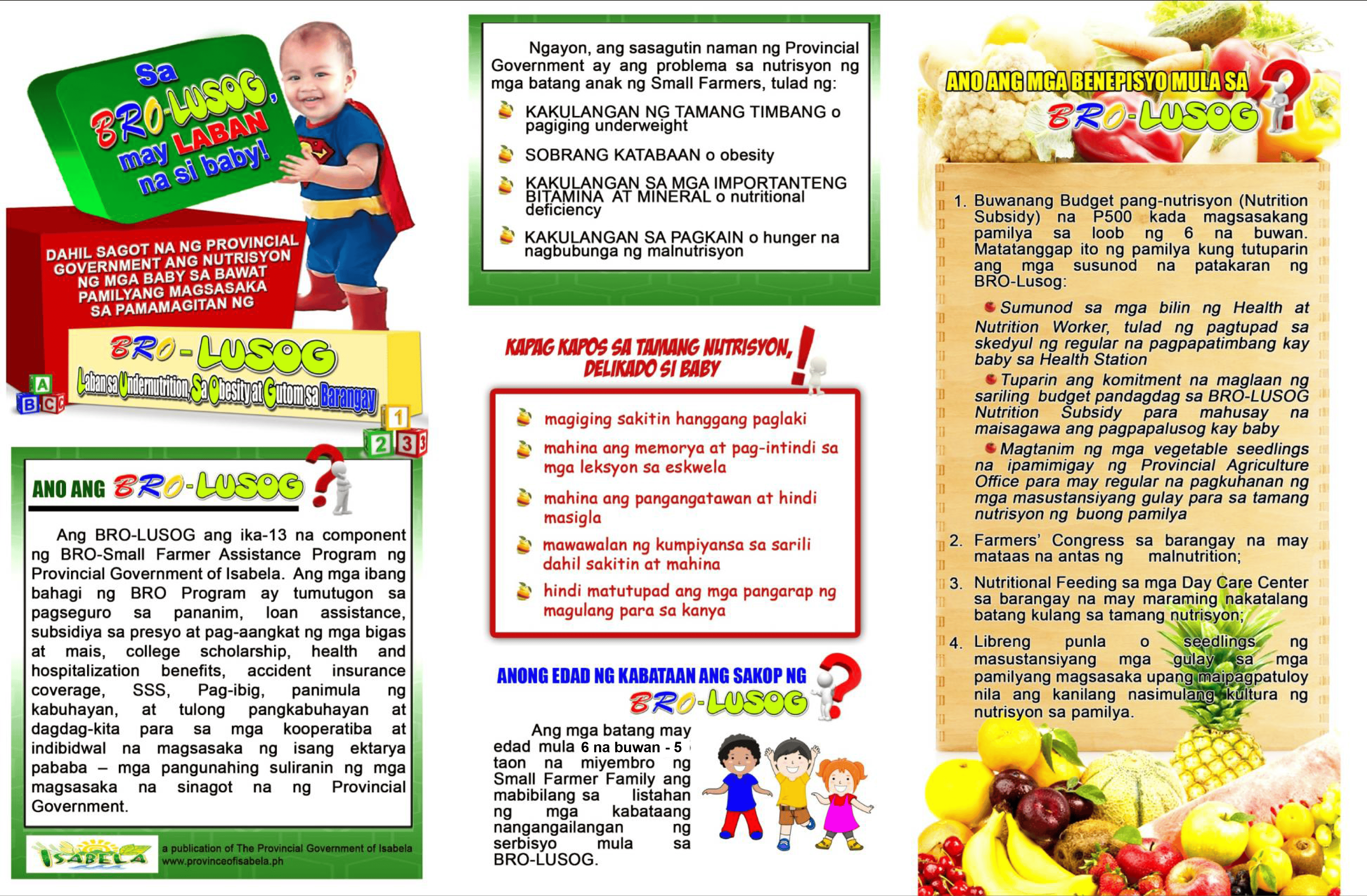 click here for a full pdf copy
ACCOMPLISHMENT REPORTS