BAMBANTI FESTIVAL BAGS PEARL AWARD GRAND CHAMP FOR BEST TOURISM EVENT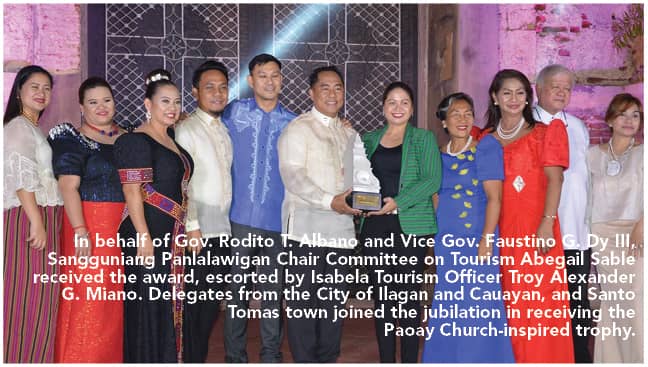 Another feather now adorns the hat of Isabela's Bambanti as it gained the most coveted recognition in the 2019 Pearl Awards for Best Tourism Practices of the Philippines given by the Department of Tourism (DOT) and Association of Tourism Officers of the Philippines' (ATOP) as the Grand Winner, Best Tourism Event  - Festival as Thanksgiving For A Beautiful Harvest held in front of the UNESCO World Heritage Site, San Agustin Church in Paoay, Ilocos Norte on October 4, 2019.
The Bambanti Festival won the said award besting 4 other finalists namely; Begnas ti Bauko of the municipality of Bauko, Mountain Province; Kneeling Carabao Festival of the municipality of Pulilan, Bulacan; Pista'y Dayat of the province of Pangasinan; and Simballay Festival of the municipality of Nabunturan, Compostela Valley.
Started in 2005, the Pearl Awards of the Association of Tourism Officers in the Philippines celebrates the best in the tourism industry and honors the great efforts made by the people in the industry, most especially the Local Government Units. "Creating works and exceptional services are not going to be ignored or taken for granted but instead it should be noticed and recognized and will be publicized to provide visibility and recognition as rewards for such noble deeds," notes ATOP in giving the awards.