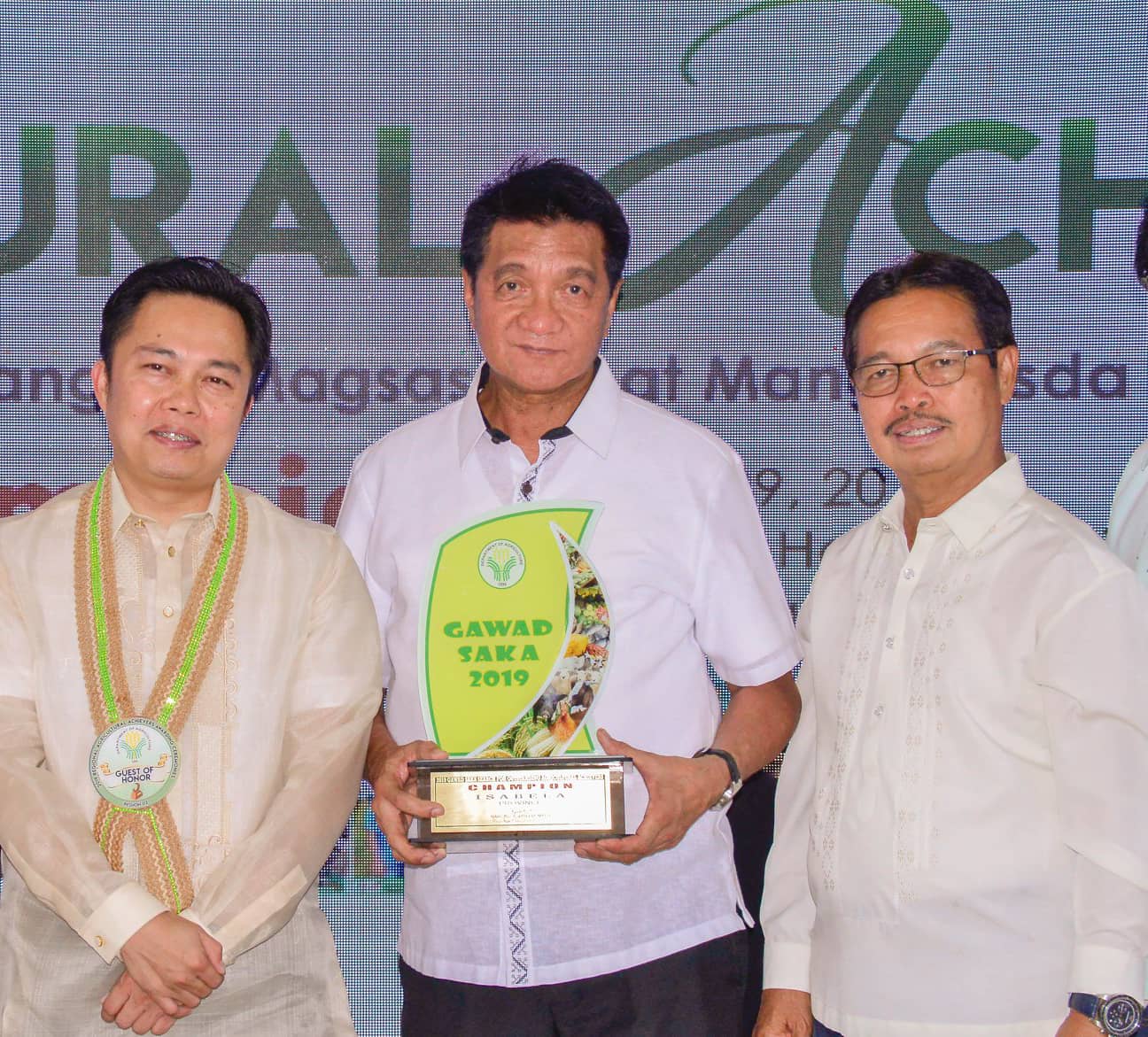 The Department of Agriculture (DA) Regional Office 02 gave honor to outstanding agricultural achievers who excelled in their fields during the Gawad Saka awarding at the Pulzar Hotel, Caggay, Tuguegarao City on July 29, 2019. The award recognizes the efforts of farmers and fisherfolks in improving not only their lives but the community as a whole, an appreciation to the hardworking people of Region 2 who always ensure that Cagayan Valley will always be a consistent producer of agricultural products.
The event was graced by USec. Roldan G. Gorgonio, Undersecretary for Administration, Policy & Planning, Project Development, Research & Regulation and Chief of Staff of the Department of Agriculture.
For 2019, the province of Isabela was hailed as the Regional Gawad Saka Champion, garnering the (10) out of the twenty-eight (28) category awards.
The winners under the individual category who received P50,000.00 each were Mr. Benjamin E. Domingo – Outstanding Farmer from City of Ilagan, Isabela; Mr. Renato C. Alfaro – Outstanding Fisherfolk (Fish Culture) from Cauayan City, Isabela;  Mr. Arvin Israel D. Padilla – Outstanding Large Animal Raiser from Sisim Alto, Tumauini, Isabela; Mr. Jorge Saguibo – Outstanding Integrated Rice – Based Farmer from Daramuangan Sur, San Mateo, Isabela; Mr. Ronald Calong – Outstanding High Value Crops (HVC) Farmer from Malasin, Aurora, Isabela; Mr. Armando M. Delos Santos – Outstanding Young Farmer/Fisherfolk from Bonifacio, Angadanan, Isabela; Mr. Romar A. Del Rosario – Outstanding Fisherfolk (Capture Fisheries) from Didaddungan, Palanan, Isabela; Engr. Claudio P. Gonzaga – Outstanding Organic Agriculture Farmer from Villa Gonzaga, Santiago City, Isabela.
Meanwhile, winners under the group category who received a cash of P75,000.00 were Villa Luna Multi-Purpose Cooperative – Outstanding Small Farmer/Fisherfolk Organization from Villa Luna, Cauayan City, Isabela; and ICCAFC – Outstanding Provincial Agriculture and Fishery Council (PAFC) from Santiago City, Isabela.
Ms. Hermilita P. Valdez from Bannawag Angadanan, Isabela was also awarded as Rural Women Achiever; and Mr. Wilfredo Loresto and Family from Holy Friday, Mallig, Isabela as Organic Farming Family.
Gawad Saka is an annual search in recognizing the continuing efforts and contribution of farmers and fisherfolks as partners of the government in sustaining food security and nation building.