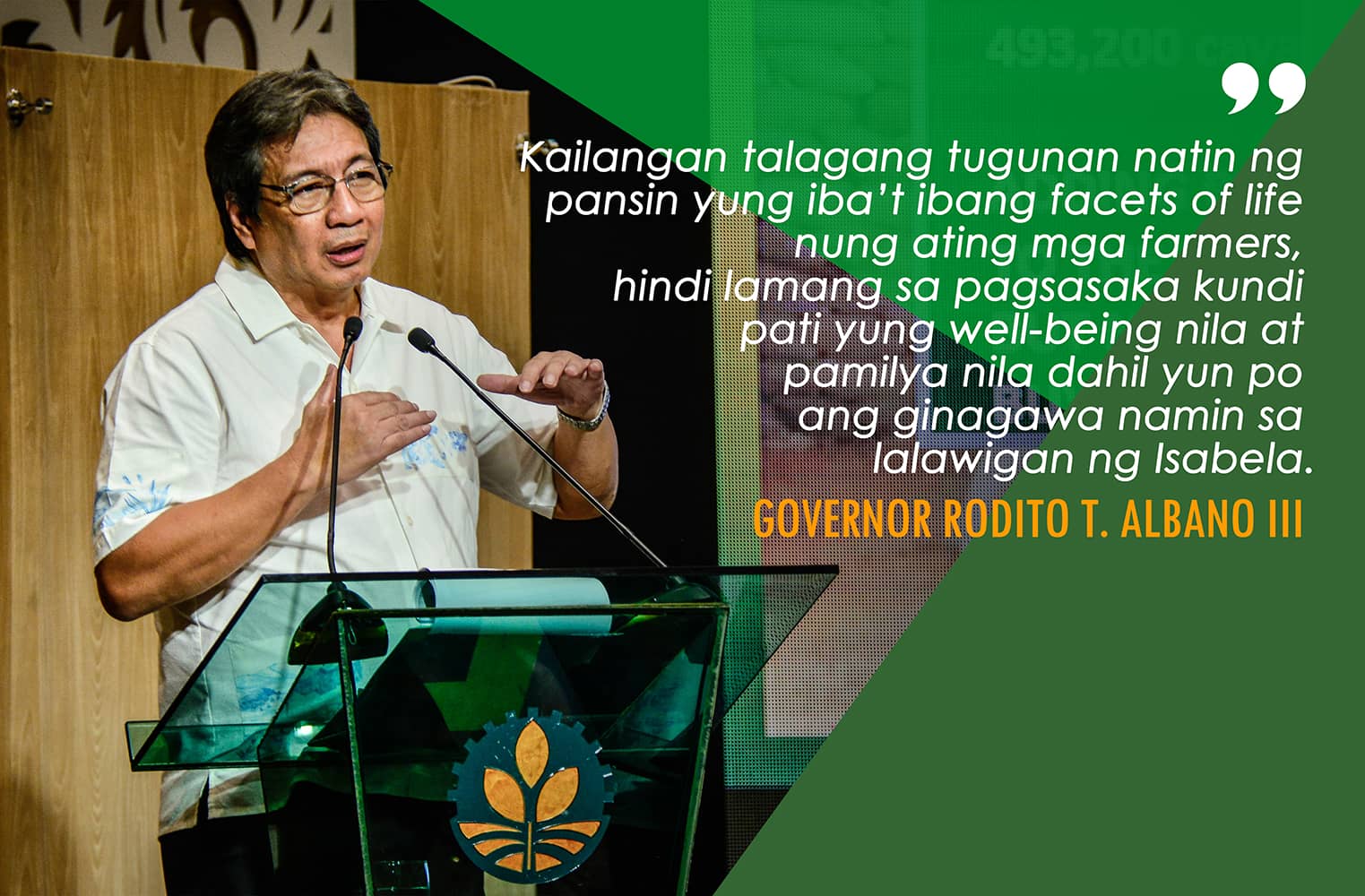 Dubbed as the country's Center of Agriculture, Isabela, along with other food champion provinces, cities and municipalities all over the country joined this year's National Food Security Summit aimed at leveling up the Philippine agriculture and fishery sectors leading to a committed vision of sustaining a food-secure agricultural country through prosperous farmers and fisher folks held at Diosdado Macapagal Hall, Landbank of the Philippines, Malate, Manila on October 29-30, 2019.
The event also aimed to provide an avenue to forge new public and private partnership for the betterment of the agriculture industry following countless agricultural issues like the falling price of palay/copra & other pressing matters such as the African Swine Fever (ASF) & Fall Army Worm (FAW) that's greatly affecting the agricultural sector these days.
With the year's theme "Sama-sama tungo sa Masaganang Ani at Mataas na Kita", Secretary William D. Dar of the Department of Agriculture (DA) introduced DA's new vision tagged as "New Thinking", composed of eight  paradigms pushing for modernization and industrialization geared towards empowering the agricultural and private sectors to increase its agricultural productivity and profitability whilst promoting sustainability and resilience.
Governor Rodito T. Albano III, presented Isabela's Model Chain on Food Security Program. As the second highest rice-growing province nationwide that produces 15% of the aggregate national rice production on an annual basis, Governor Rodito emphasized that the Provincial Government of Isabela focuses on promoting food security by providing high income to rice farmers while making prices affordable to the consuming public, "the premiere function of the Local Government is to provide the basic needs of its citizens, one of which is, stable food supply," he said.
Gov. Albano also discussed how the recent passing of the Rice Tariffication Law affected the rice industry especially among small rice farmers due to surge of cheaper imported rice in the market as well as the decline in the buying price of locally-produced palay resulting to lower income of rice farmers, however, through DA, Isabela managed to allot funds amounting to 3 billion bankroll palay-buying, drying milling and rice marketing as a means to address the problem.
Moreover, Albano underscored the creation of the Nagkaisang Magsasaka ng Isabela Agriculture Cooperative (NMIAC) to showcase the agricultural prowess of the province in responding to agri-challenges. The NMIAC is a province-wide super cooperative composed of marginalized farmers with landholdings of 2 hectares and below with two hundred marginalized rice farmers from each of the 30 municipalities and 2 component cities initially registered with a paid-up capital of Php 1,000 plus Php 200 each created to revitalize the rice industry of the province. To date, NMIAC has initial of 6,165 registered members.
As the only province honored with Hall of Fame trophies in both the National Rice Achievers Award and the Quality Corn Achievers Award, Albano proudly highlighted the Bojie-Rodito Opportunities Farmer Assistance Program that addresses the needs of marginalized farmers through its components that provide for crop insurance, pricing and transport subsidy and college scholarship for farmers' children.
"So, I'm trusting Sec. Dar and Sec. Dominquez pati ang DBP at Landbank na kailangan talagang tugunan natin ng pansin yung iba't ibang facets of life nun fating mga farmers, hindi lamang sa pagsasaka kundi pati yung well-being nila at pamilya nila dahil yun po ang ginagawa namin sa lalawigan ng Isabela," he added.
Driven to elevate the quality of life of farmers, Albano encouraged the participants to buy locally-produced rice to help the farmers beat the existing agricultural challenges and be an active partner in attaining a food-secured Philippines.
"THE PREMIERE FUNCTION OF THE LOCAL GOVERNMENT IS TO PROVIDE THE BASIC NEEDS OF ITS CITIZENS, ONE OF WHICH IS STABLE FOOD SUPPLY."