Earth Hour 2019
As one province, let's join millions around the world to switch off the lights on March 30, 2019, from 8:30 to 9:30 PM, #Connect2Earth and declare #AyokoNgPlastik as a way to start changing the planet for the better.
Together, we go beyond the hour, the journey to reverse the loss of nature starts here. Don't forget to click share!
Upload your Earth Hour photos online and add social media hashtags#EarthHourPH2019 and #IsabelaConnects2Earth.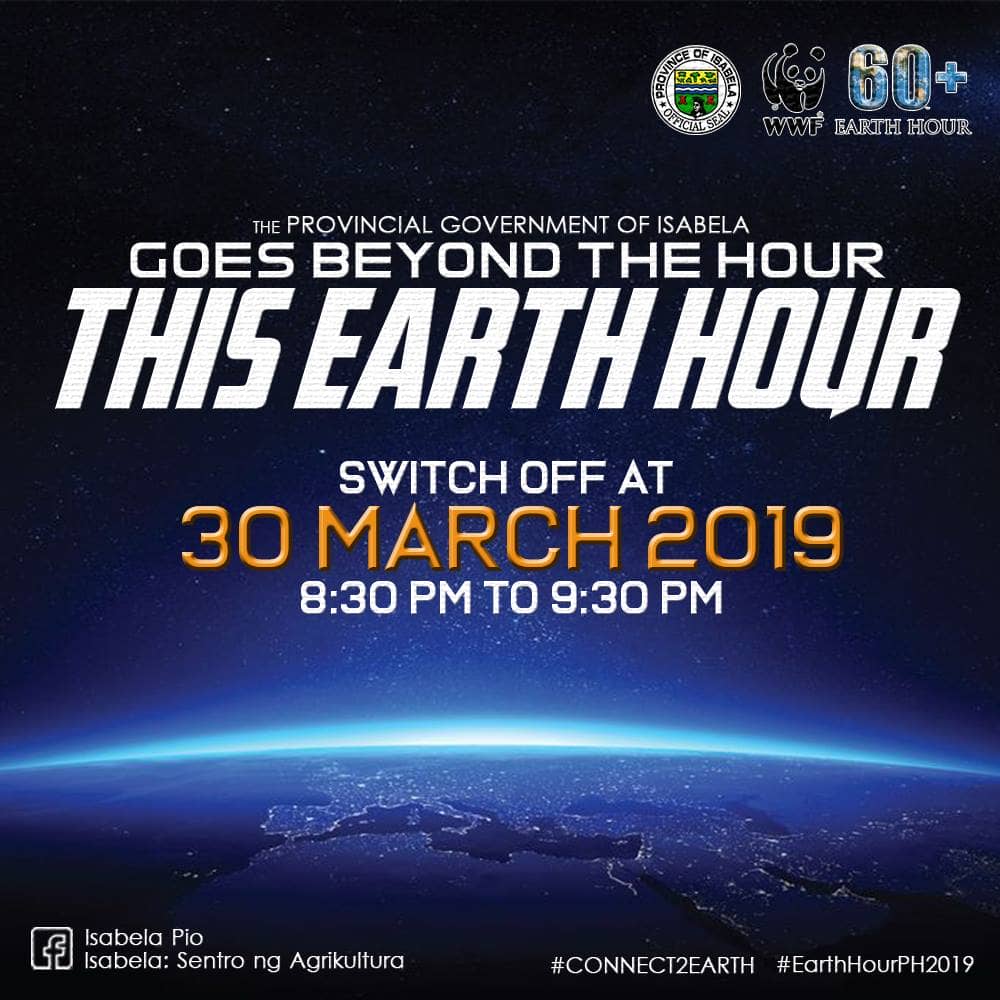 Happy International Women's Day
Here's to STRONG WOMEN. 
May we know them. 
MAY WE BE THEM. 
May we RAISE them.
Happy International Women's Day!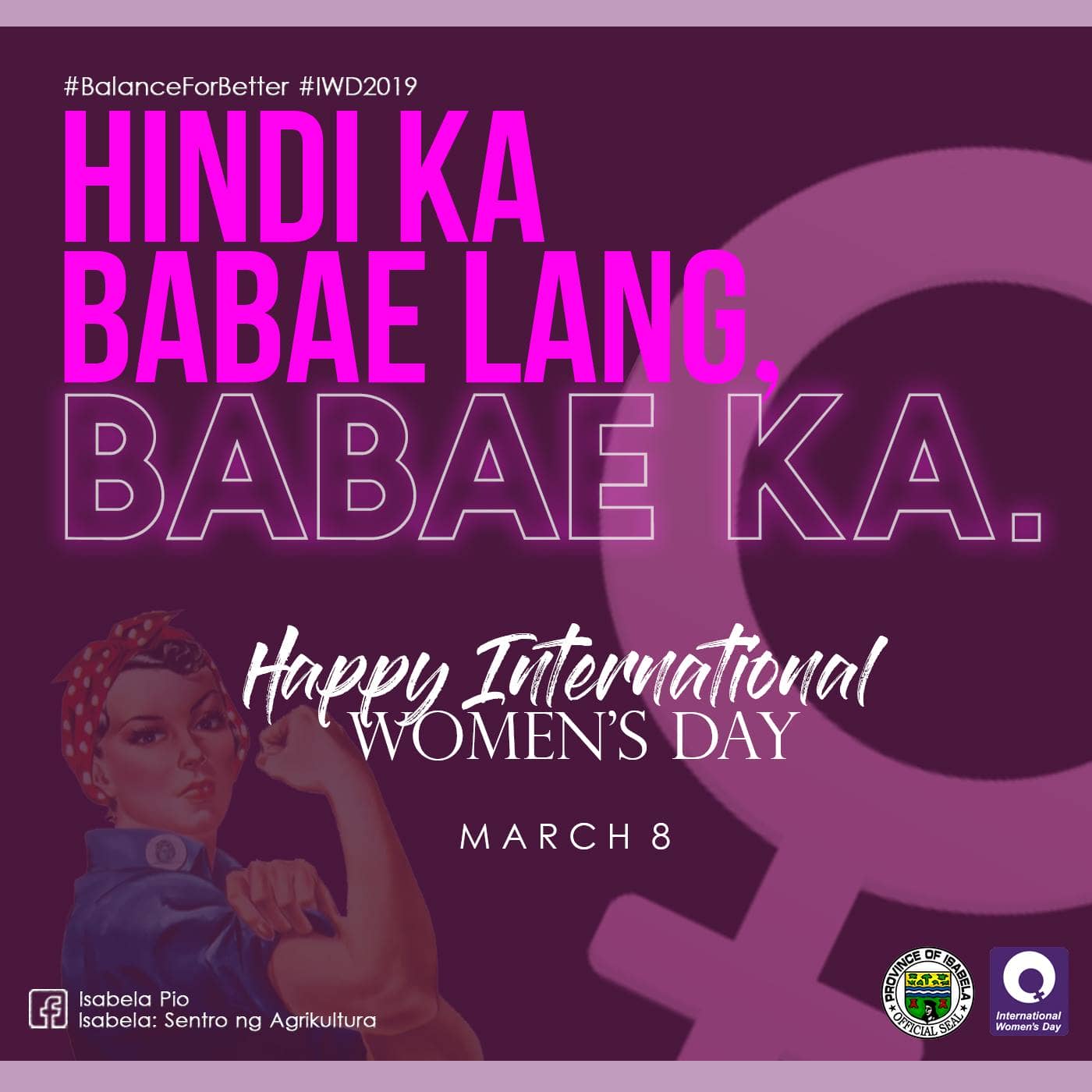 EXECUTIVE ORDER NO. 3-2019
DECLARING FEBRUARY 11TH, 2019 AS SPECIAL NON-WORKING DAY IN THE PROVINCIAL GOVERNMENT OF ISABELA, AND FEBRUARY 12TH, 2019 AS A SPECIAL NON-WORKING DAY IN THE PROVINCE OF ISABELA TO ENSURE PUBLIC ORDER AND SAFETY DURING THE VISIT OF HIS MOST REVEREND EXCELLENCY GABRIELE GIORDANO CACCIA, APOSTOLIC NUNCIO TO THE PHILIPPINES, FOR THE INSTALLATION OF THE NEW BISHOP OF THE DIOCESE OF ILAGAN, AND TO DEMONSTRATE THE HIGHEST COURTESY AND RESPECT TO THE AMBASSADOR OF THE HOLY SEE IN THE INDEPENDENT CITY-STATE OF VATICAN CITY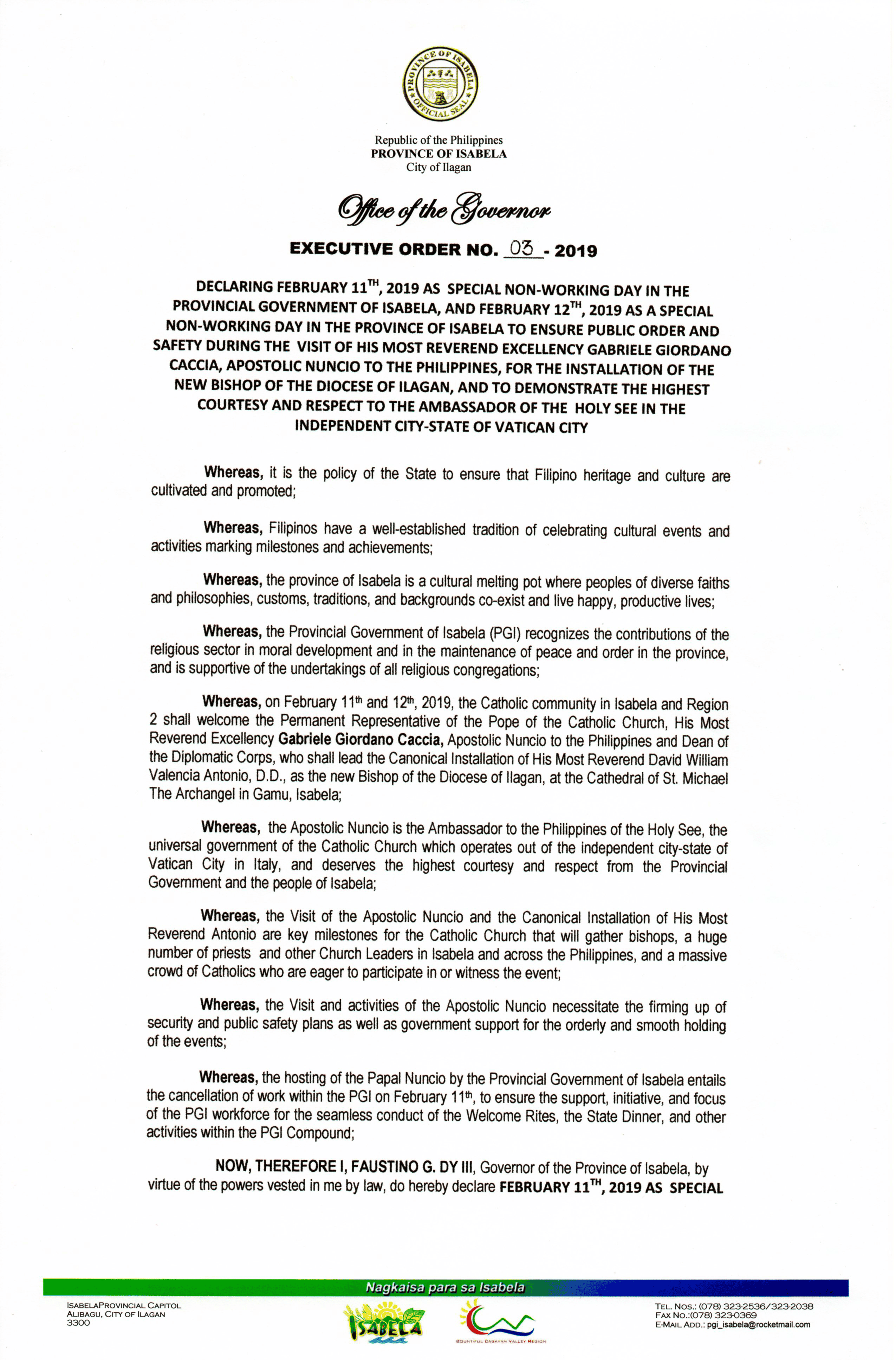 Click photo to see full copy
Officially amazing! Isabela 'scarecrows' set world record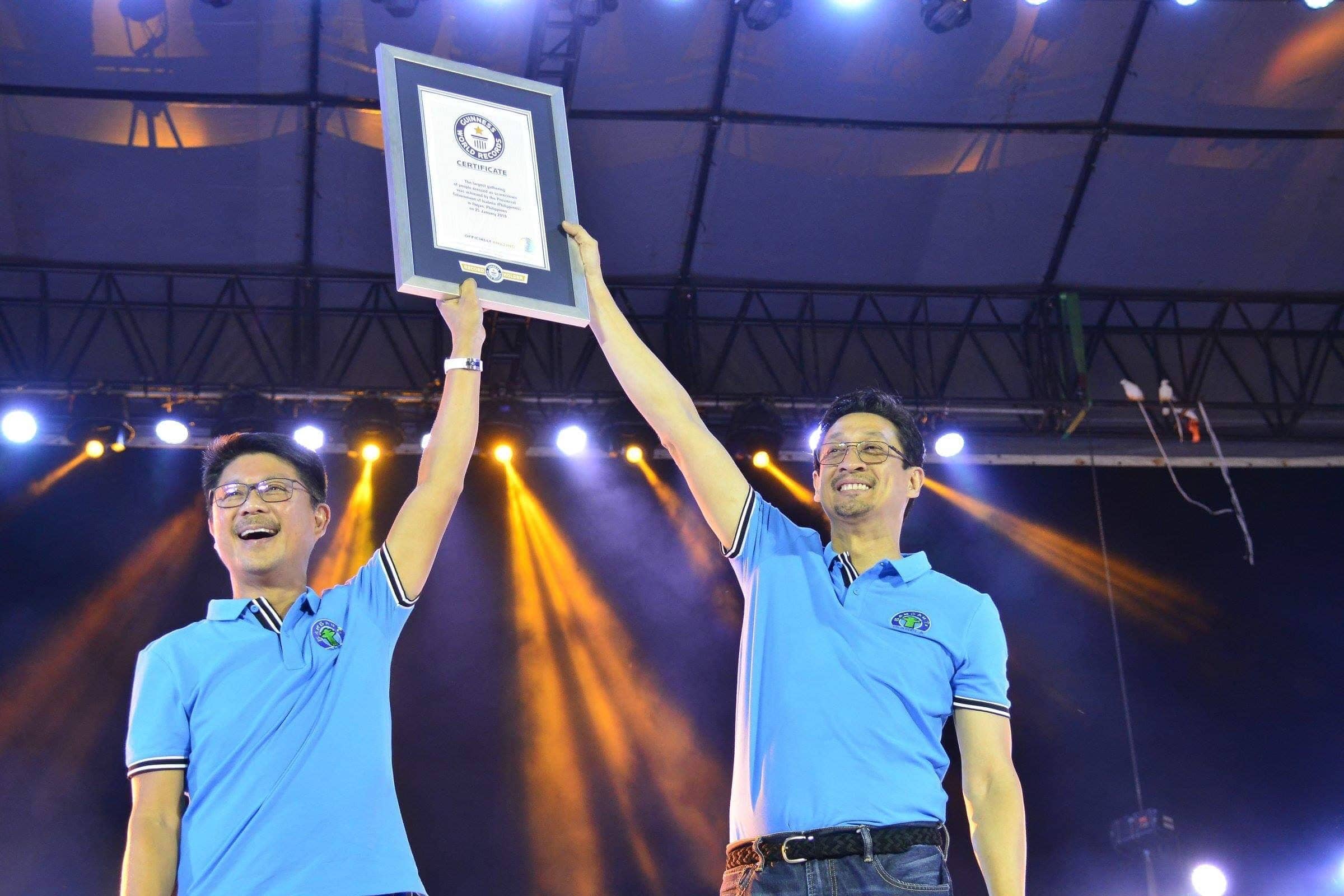 PROVINCIAL PRIDE. Isabela Gov. Faustino "Bojie" Dy III (left) and Vice Gov. Tonypet Albano raise the award given by the Guinness Book of World Records for the largest gathering of people dressed and dancing as scarecrows during the 2019 Bambanti Festival. —CONTRIBUTED PHOTOS


Isabela province, one of the country's top rice and corn producers, celebrated on Friday its annual Bambanti Festival with a street dance involving 2,495 people dressed as scarecrows, a colorful presentation that earned global recognition.
"You are officially amazing!" said Pauline Ann Sapinska, adjudicator for the Guinness World Records, after proclaiming the new world record set by the province for the largest gathering of people dressed as "bambanti" (the Ilocano term for scarecrows).
This year's dancers came from 25 towns of the northern province. Held to give thanks for a bountiful harvest and to honor Isabela's farmers, the festival has received numerous recognitions through the years, including a spot in the Aliw Awards Hall of Fame.
Hotels in Isabela, particularly in the towns of Ilagan, Cauayan and Echague, were all fully booked for this year's festival, boosting local tourism.
"We are overwhelmed. Who would have thought that a province like ours would be given this kind of award?" Gov. Faustino "Bojie" Dy III told the Inquirer. "Isabela is known in agriculture, but this Guinness Award proved that we could do better and bigger in spite of the many adversities that we faced in the past."