Page 1 of 3
Tourist Destinations 
AGUINALDO SHRINE
Although Isabela did not play a major role in the revolt against Spain, it is in Palanan that the final pages of the Philippines Revolution was written when the American forces led by Gen. Frederick Funston finally captured Gen. Emilio Aguinaldo in the area on March 23, 1901.
BONSAI FOREST

Dinapigue showcases a bonsai forest with plants ranging from one foot to 7 feet in height.  The forest is astonishing – covering an estimated 5,000 hectares.
CAMP SAMAL
The historic Camp Samal was the site of the National Jamboree in 1977. Spanning at 23.50 hectares, elevated mass of rolling hills 500 feet above sea level overlooks the mighty Cagayan River, the Pinacanauan River, the town of Tumauini itself, the municipality of Delfin Albano, and the Sierra Mountain ranges.
CROCODILE SANCTUARY OF SAN MARIANO

San Mariano houses a gallery of spectacles ranging from its flora and fauna to the diverse river systems and waterfall formations.
The Philippine Crocodile, a critically endangered species, can be found throughout the length of the river and creeks of San Mariano. Mabuwaya foundation, and even the president of the famous clothing company Lacoste, Michel Lacoste, shows support for the famous Crocodile Sanctuary of San Mariano.
DIBULO FALLS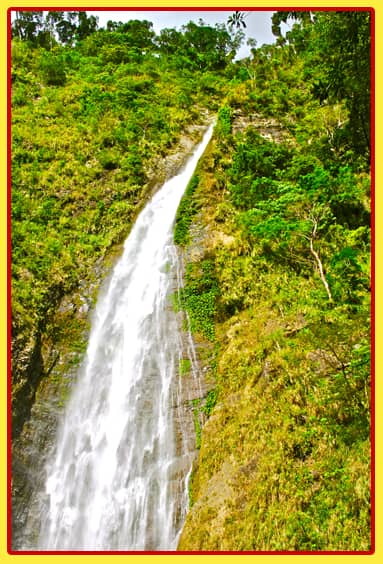 Dibulo falls is one of the most notable throughout the Sierra Madre mountain range. It is one of the attractions of Sierra Madre Nature Park.
DICOTCOTAN BEACH
Dicotcotan Beach boasts of a three-kilometer long beach with coral reefs, sea grass beds and sandy shoreline that is fringed with a coastal forest and a village. There are regular sightings here of pointed nosed dolphins and hump back whales aside from the various species of fish and shellfish, and marine turtles that can be seen from the surface.
FUYOT SPRINGS NATIONAL PARK
Situated in the suburbs of Sta. Victoria, City of Ilagan, Fuyot Springs National Park nestles a multitude of attractions guaranteed to satisfy adventurers.
The park houses the Sta. Victoria Caves, which showcases more than 12 caves open for public spelunking. The caves feature formed lattices, stalactites, and stalagmites, a few of which have mineral deposits making them glimmer and shine when hit by light.
Also within the park is Pinzal Falls, reached by a treading a short trek from the park proper. Following the creek flowing from the falls, an adventurer will find a pathway of rocks and waterholes enough to excite an avid adventurer.