Contact No. +639678393252
Email address:  This email address is being protected from spambots. You need JavaScript enabled to view it.
PROFILE
The Palanan Station is a 10 - Bed Health facility with a floor area of 16.5 x 46m situated in a 2-hectare lot of Barangay Centro West Palanan, Isabela. The hospital is more or less 1 and a half km from the town proper. It is one of the hospitals devolved by the DOH to the Provincial Government of Isabela in April 1993. Recently it has been reclassified as a DOH licensed 10-bed primary care facility/infirmary which is a PHIC accredited center of safety, a TB referring hospital and just recently last year, was accredited by DOH as an Animal Bite Treatment Center (ABTC). It is the only existing hospital in Palanan, Isabela catering to the health needs of the people living in GIDA, the coastal towns (Palanan and a part of Divilacan) of Isabela.
VISION
That the Palanan Station Hospital will be a 10-bed infirmary with a secondary laboratory and X-ray facilities.
MISSION
To provide available, accessible, adequate, affordable, effective and efficient preventive and curative care to the public particularly to the poor people of Palanan, Isabela and its neighboring towns.
BED CAPACITY AND OCCUPANCY RATE
Authorized Bed Capacity: 10
Bed Occupancy Rate: 85.45%
SERVICES AVAILABLE
Clinical services: Emergency services, Outpatient services, In-patient services, delivery and operating room services. The Medical Services offered are General Medicine, Pediatrics, Surgery, Obstetrics, and Gynecology.
Nursing Services
Ancillary Services: A primary laboratory and a drug store
Administrative Service: Finance, Personnel, Dietary, Housekeeping, Security, Laundry, Medical Records, and Maintenace.
ORGANIZATIONAL CHART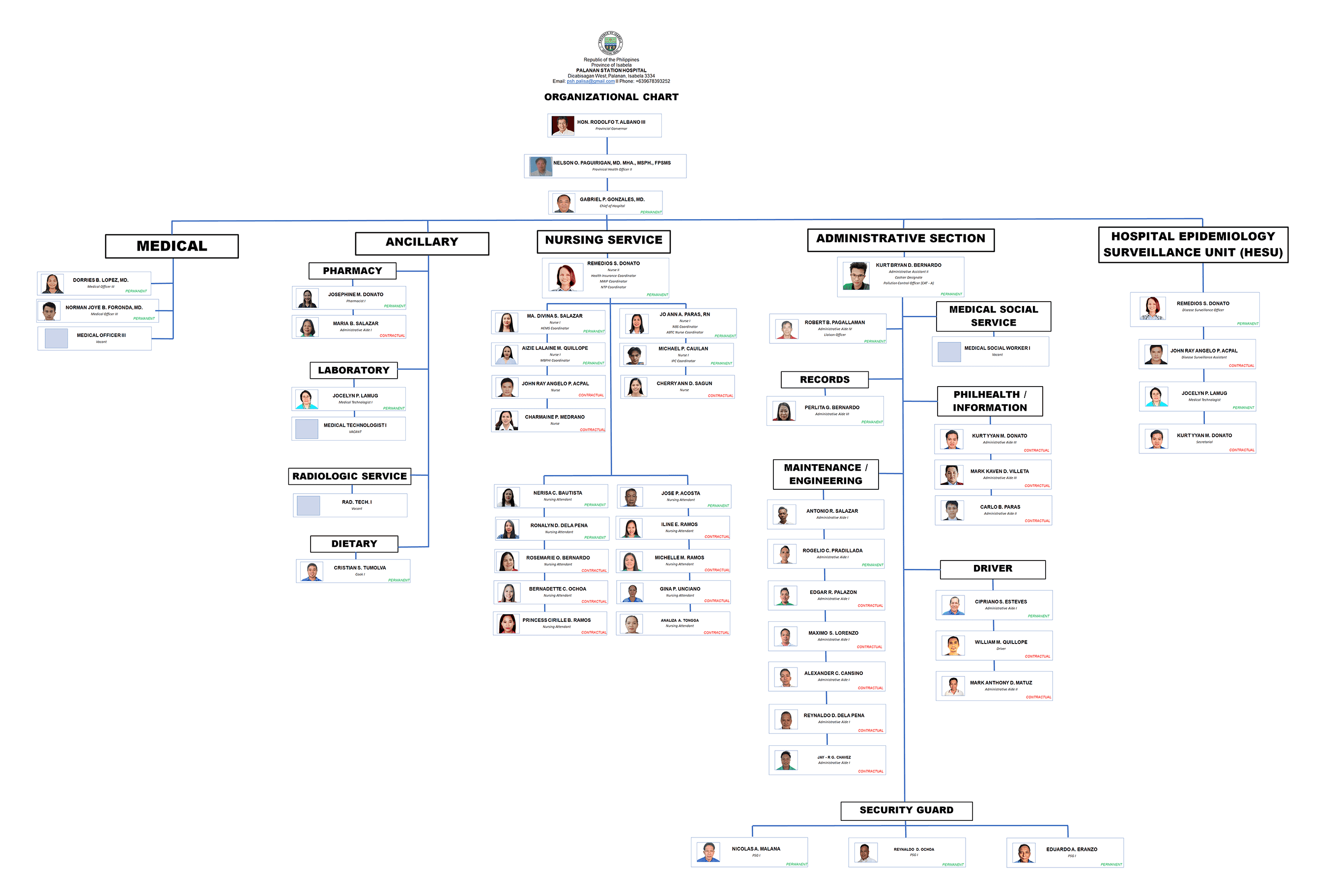 ACCOMPLISHMENT REPORTS
MONTHLY REPORTS
2023
Inventory of Drugs and Medicines
Inventory of Medical Supplies
2022
Inventory of Drugs and Medicines
Inventory of Medical Supplies
2021
Inventory of Drugs and Medicines
Inventory of Medical Supply
2020
Inventory of Drugs and Medicines
Inventory of Medical Supplies
HOSPITAL PICTURES