Telephone No. 323-0384
Email address: This email address is being protected from spambots. You need JavaScript enabled to view it.
VISION
To enhance the capabilities of our personnel and strengthen an Office tasked to serve as custodian and repository of all properties owned by the Provincial Government of Isabela, and ensure the proper and judicious utilization thereof, in pursuit of the local government's development goals and thrusts, consistent with the best interest of the people.
MISSION
In pursuit of this VISION, the Provincial General Services Office shall institutionalize plans and strategies aimed at ensuring the efficient and effective procurement of supplies, equipment and other properties crucial to the operation of the provincial government and essential to the delivery of basic services to the people.
FUNCTIONAL STATEMENT, OBJECTIVES AND EXPECTED RESULTS
Take custody of and be accountable for all properties, real or personal, owned by the Local Government Unit and those granted to it the form of donations, preparation, assistance and counterpart of joint projects.

With the approval of the governor, assign building or land space to local officials or other public officials, who by law, are entitled to such space. As such, may recommend a reasonable rental rate for the local government properties, whether real or personal, which may be leased to public or private entities by the Local Government Unit.

Maintain and supervise janitorial, security, landscaping and other related services in all public buildings and other real property, whether owned or leased by the Local Government Unit.

Collate and disseminate information regarding prices, shipping and other cost of supplies and other items commonly used by the Local Government Unit.

Perform archival and record management with respect to records of offices and departments of the Local Government Unit, and

Perform all other functions pertaining to supplies and property management and enforce policies on records creation, maintenance and disposal.
To formulate measures for consideration of the Sangguniang Panlalawigan and provide technical assistance and support to the governor in carrying out measures to ensure the delivery of basic services and provision of adequate facilities pursuant to Rule V of the Implementing Rules and Regulations of Republic Act No. 7160, which require general services expertise and technical support services.

To develop plans and strategies on general services supportive of the welfare of the inhabitants and implement them upon approval thereof by the governor.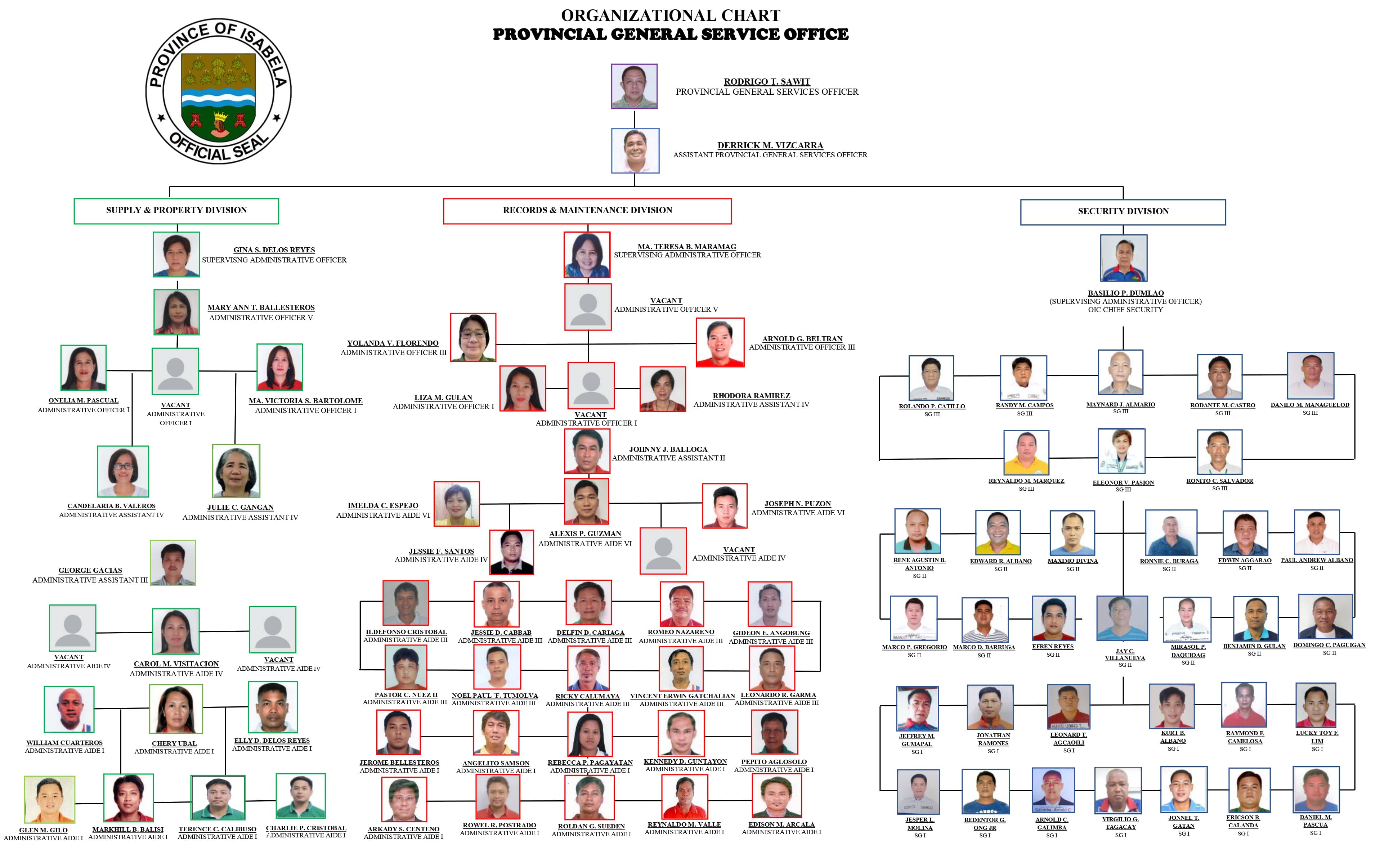 ACCOMPLISHMENT REPORTS
2023
2022
2021
2020
2018
2014
BIDS AND AWARDS COMMITTEE ACCOMPLISHMENT REPORTS
2021
Goods
Infrastructure
2020
Accomplishment Report for Jan-Dec 2020
FARMERS' CONGRESS PICTURES
Dinapigue Farmers' Congress
Mallig Farmers' Congress
Cauayan City Farmers' Congress
Ilagan City Farmers' Congress
Sta Maria Farmers' Congress
Ramon Farmers' Congress
Sto Tomas Farmers' Congress
Echague Farmers' Congress
Jones Farmers' Congress
Cabatuan Farmers' Congress
OTHER PICTURES OF PGSO ACTIVITIES
Fogging at Sta Barbara and Bagumbayan Ilagan City, Isabela
Inspection of Radio Communications to PNP IPPO