Email address:  This email address is being protected from spambots. You need JavaScript enabled to view it.
AGENCY PROFILE
The Echague District Hospital, formerly Primo Gaffud District Hospital was originally located at San Fabian, Echague, Isabela and started operating in 1974 as a ten-bed capacity primary hospital. In May 2005, it was relocated at Ipil, Echague, Isabela in one of the four district hospitals constructed during the incumbency of Governor Faustino S. Dy Jr. The new hospital was inaugurated on June 29, 2004, but the actual transfer of personnel and equipment from Primo Gaffud District Hospital at San Fabian to Primo Gaffud District Hospital at Ipil took place on May 16, 2005. On September 13, 2005, the Sangguniang Panlalawigan of Isabela approved and adopted a resolution naming the new hospital as the Echague District Hospital. It is a core referral hospital of the southern Inter-Local Health Zone which includes the municipalities of Echague, Jones, San Agustin, San Isidro, Ramon, Cordon, Dinapigue and Santiago City with a combined population of about 424,000. The population served is not only confined to its catchment areas but also to patients coming from adjacent municipalities of Alicia, Angadanan, San Guillermo, San Mateo and as far as the provinces of Quirino and Ifugao.
The Echague District Hospital is a 25-bed general hospital which is continuously experiencing a tremendous influx of patients with a bed occupancy rate of 179.09% in 2017. This indicates the need to upsize the hospital from 25 beds to 50 beds.
MISSION AND VISION
Mission - The Echague District Hospital is committed to provide adequate, accessible and quality patient care and health services through its dedicated and competent health personnel. 
Vision - It envisions to be a 50-bed hospital with modern facilities and equipment, well trained, complete and competent personnel to ensure quality medical and surgical services that are affordable, accessible and cost-effective.
SERVICES OFFERED
In-patient and Out-Patient Services
Medicine
Pediatrics
Ob-Gynecology
Surgery
Laboratory Services
Emergency Room Services
Animal Bite Treatment Center 
Dental Services
Radiology
Pharmacy
Reproductive and Family Planning
Administrative and Support Services
Ambulance
Blood Station
Human Resources
The Echague District Hospital is a Level I general hospital and is owned and operated by the Provincial Government of Isabela under the leadership of Governor Faustino "Bojie" G. Dy III with the following staff composition: 
Medical Services:
Doctors - 6
            1 - OIC-Chief of Hospital
            2 - Medical Officer III
            1 - Detailed from CDH
            2 - Contractual Medical Officer
Visiting Consultants
5 - Anesthesiologist
2 - General Surgeon
1 - Otorhinolaryngologist
1 - Internist
3 - Pediatrician
1-      OB-Gyne
Dental Services
        2 - Dentist II
 Ancillary Services
            5 - Medical Technologist
                 1- Permanent
                 4 - Contractual
Administrative Services:
1 - Administrative Officer
1 - Records Officer
1 - Cashier (from CDH)
1 - Social Worker
2 - Drivers
            1 - Permanent
            1 - Contractual
1 - Storekeeper II
1 - Admin Aide III
4 - Admin Aide III - Contractual
6 - Admin Aide II - Contractual 
1 - Building Maintenance - Contractual
9 - Utility Workers - Contractual 
1 - Clerk II - Contractual
6 Security Guards (JG Agency)
Dietary Services
1 - Nutritionist Dietician
1 - Cook Contractual
2 - Food Service Worker - Contractual
ORGANIZATIONAL CHART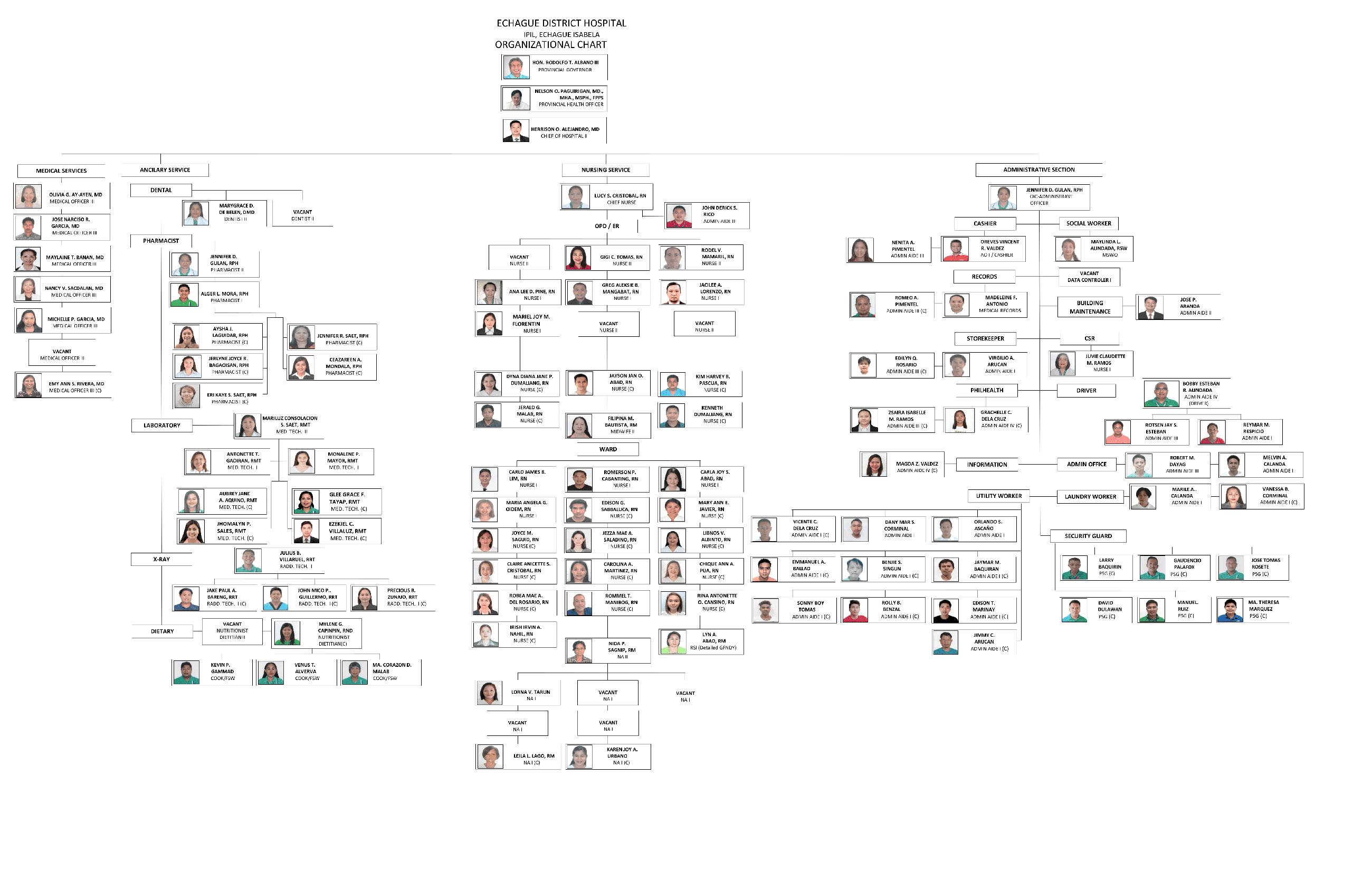 ANNUAL ACCOMPLISHMENT REPORT
MONTHLY ACCOMPLISHMENT REPORT
2023
MONTHLY INVENTORY REPORT
2023
Inventory of Drugs and Medicines
Inventory of Medical Supplies
2022
Inventory of Drugs and Medicines
Inventory of Medical Supplies
2021
Inventory of Drugs and Medicines
Inventory of Medical Supplies
2020
Inventory of Drugs and Medicines
Inventory of Medical Supplies