Isabela reaps SGLG awards for 5th year in a row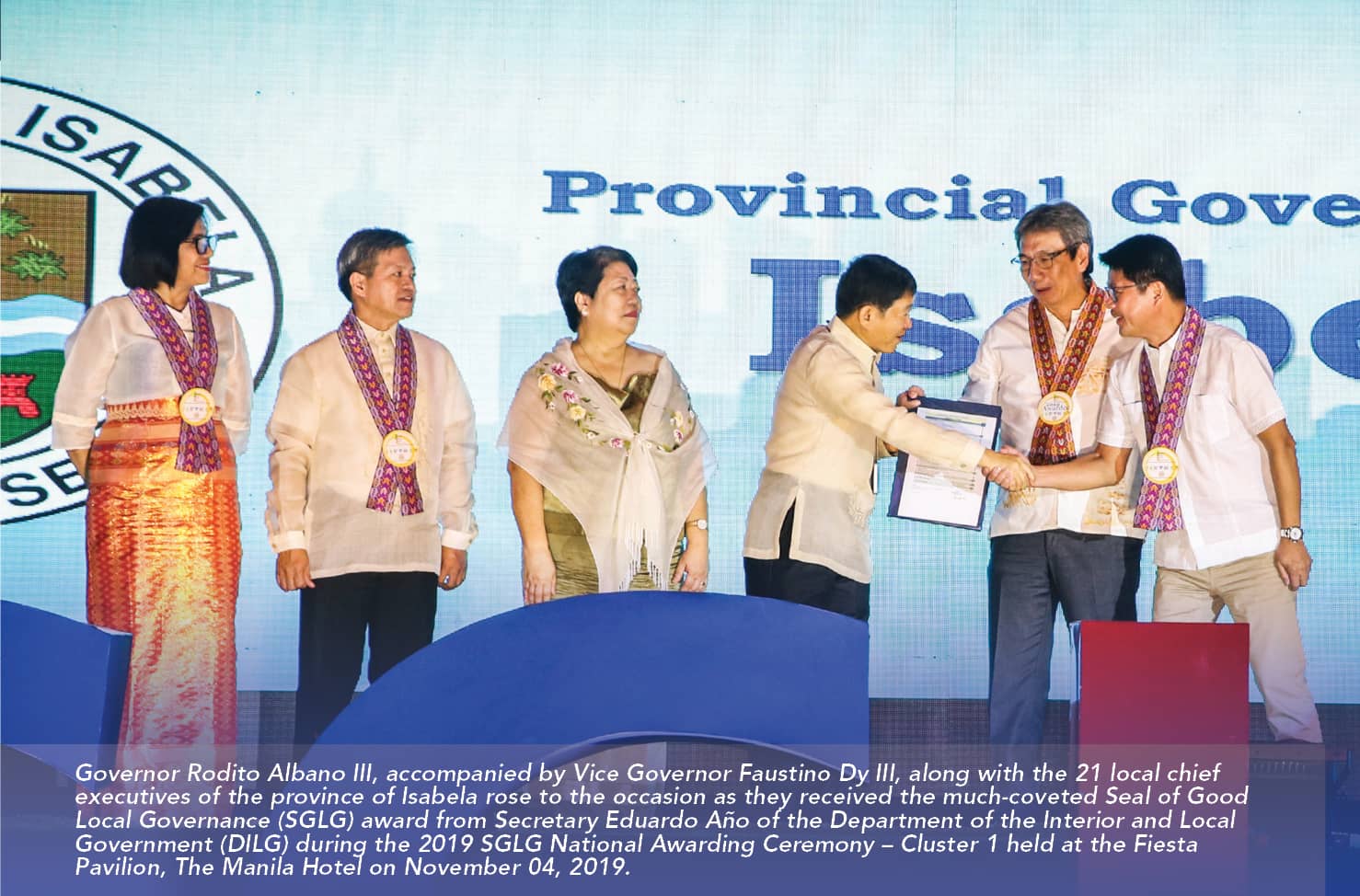 The Seal of Good Local Governance is an award, incentive, honor and recognition-based program for all Local Government Units (LGUs) and a continuing commitment for LGUs to continually progress and improve their performance.
In his letter to Governor Rodito T. Albano III, DILG Secretary Año said, "the Provincial Government substantially met the standards of all assessment areas and carried-on the "all-in criteria where a local government unit has to pass minimum requirements of all seven areas: Financial Administration, Disaster Preparedness, Social Protection, Peace and Order, Business-Friendliness and Competitiveness, Environmental Management, and Tourism, Culture and the Arts".
For the fifth consecutive time, the Provincial Government of Isabela was conferred the SGLG marker, having consistently passed the evaluation with sterling performance in 2015, 2016, 2017, 2018 and the just concluded national validation last August this year.
#TodasDengueWarriors
June 12, 2020 - Isabeleños dropped their scheduled activities since they are expected to be free from any work-related functions because of Independence Day which is a non-working holiday, they enjoined and actively participated the simultaneous and massive clean-up drive to eliminate and stop the spread of dengue fever and other mosquito-borne diseases.
As early as 6:00 am, barangay officials, the youth, the public and private sector, the police and army, and people in the community were seen cleaning their houses, around streets, parks, and neighborhoods, pruning and clearing trees, as well as esteros and canal clean-up in different parts of the province. This time with their face masks on and strictly observing physical distancing, they left no corner unturned to destroy and eliminate mosquito-breeding sites.
Todas Dengue, Todo Na 'To, Ikapitong Kagat, now on its seventh year, is the province of ISABELA's biggest, most aggressive, and most comprehensive campaign against Dengue.
#FightTheBite
#TodasDengueTodoNaTo
#Ikapitongkagat
#DengueWarriors
RDC2 NOMINATES ISABELA GOV. ALBANO AS CHAIRPERSON
The Regional Development Council, Region 02 conducted its 115th Regional Business Meeting on September 27, 2019 at Marco Paulo Hotel in Cauayan City.
The highlight of the RDC meeting was the nomination of Chairperson and Co-chairperson to head the Council for 2019-2022. Governor Rodito T. Albano III, a first-term Governor in Isabela Province, was unanimously endorsed as the lone nominee for Chairperson from the government sector. Former Tourism Regional Director Blessida Diwa from the private sector was also indorsed by the Council as Co-chairman. The names of the two nominees were submitted to the President who appoints the RDC2 Chairperson and Co-chairperson.
"I'd like to thank you for your trust and confidence, and I will try my best to become a real chairman," said Governor Rodito as his way of expressing his gratitude to the Council for his lone nomination from the government sector.
Executive Order No. 26-2020
ENJOINING ALL GOVERNMENT AND NON-GOVERNMENT OFFICES IN THE PROVINCE OF ISABELA FOR THE CONDUCT OF "TODAS DENGUE TODO NA 'TO (IKA-PITONG KAGAT)" SIMULTANEOUS AND MASSIVE CLEAN-UP OF PUBLIC AND PRIVATE SPACES ON JUNE 12, 2020 TO ELIMINATE MOSQUITO BREEDING SITES AND STOP THE SPREAD OF DENGUE FEVER AND OTHER MOSQUITO-BORNE DISEASES