Tel No.: (078) 642-0152
Email Address:  This email address is being protected from spambots. You need JavaScript enabled to view it.
HOSPITAL BACKGROUND
A Level 1, 50-bed authorized bed capacity hospital
Owned and operated by the Provincial Government of Isabela;
Sole government district hospital found on the western side of Isabela;
The only district hospital in the 5th District of Isabela;
Serves the municipality of Aurora, San Manuel, Mallig, Quirino, Quezon, Roxas, Burgos, Luna and other parts of Kalinga and Mt. Province.
A Level I Referral Hospital License to Operate from the Department of Health and accreditation from PhilHealth;
A one-story building with a floor area of more or less 4,500 square meters in a lot area of more or less 26,896 square meters located along the National Highway of San Antonio, Roxas, Isabela.
Licensed as Community Isolation Unit Starting December 4, 2020
With 13 Steel houses with a floor area of 165 square meters each, that accommodate COVID-19 related cases.
MISSION
To readily provide the curative, as well as, preventive health needs of our patients encompassing the major disciplines of medicine: Obstetrics and Gynecology, Pediatrics, Internal Medicine, Surgery, and Anesthesia, that is affordable and free for eligible clients and to assist and navigate patients in availing services not within our institutions' capacity through the Public Health Unit.
VISION
A 75- Bed, departmentalized, Level-1 Center of Quality Health Care Facility, equipped with complete health services, and diagnostics, along with adequate, competent, and efficient manpower by 2028.
SERVICES OFFERED
Manuel A. Roxas District Hospital provides the following services to its client:
Medical (Adult Medicine)
Pediatrics
OB-Gynecology
Anesthesiology
Surgery
Orthopedic
Emergency Room
Out–Patient                  
Animal Bite Treatment Center (ABTC)
Family Planning                       
Dental
Newborn Screening                           
Immunization               
Surveillance
Laboratory
Radiology (X-ray & Ultrasound)
Pharmacy
Dietary Services
Social Services
ACHIEVEMENTS
Recipient of Outstanding Performing Facility 99% Newborn Screening for the Year 2016
Hospital D.O.T.S. Achiever Award program implementation Review July 12-13, 2016
Ranked fifth in the entire Region II for NBB compliance in 2016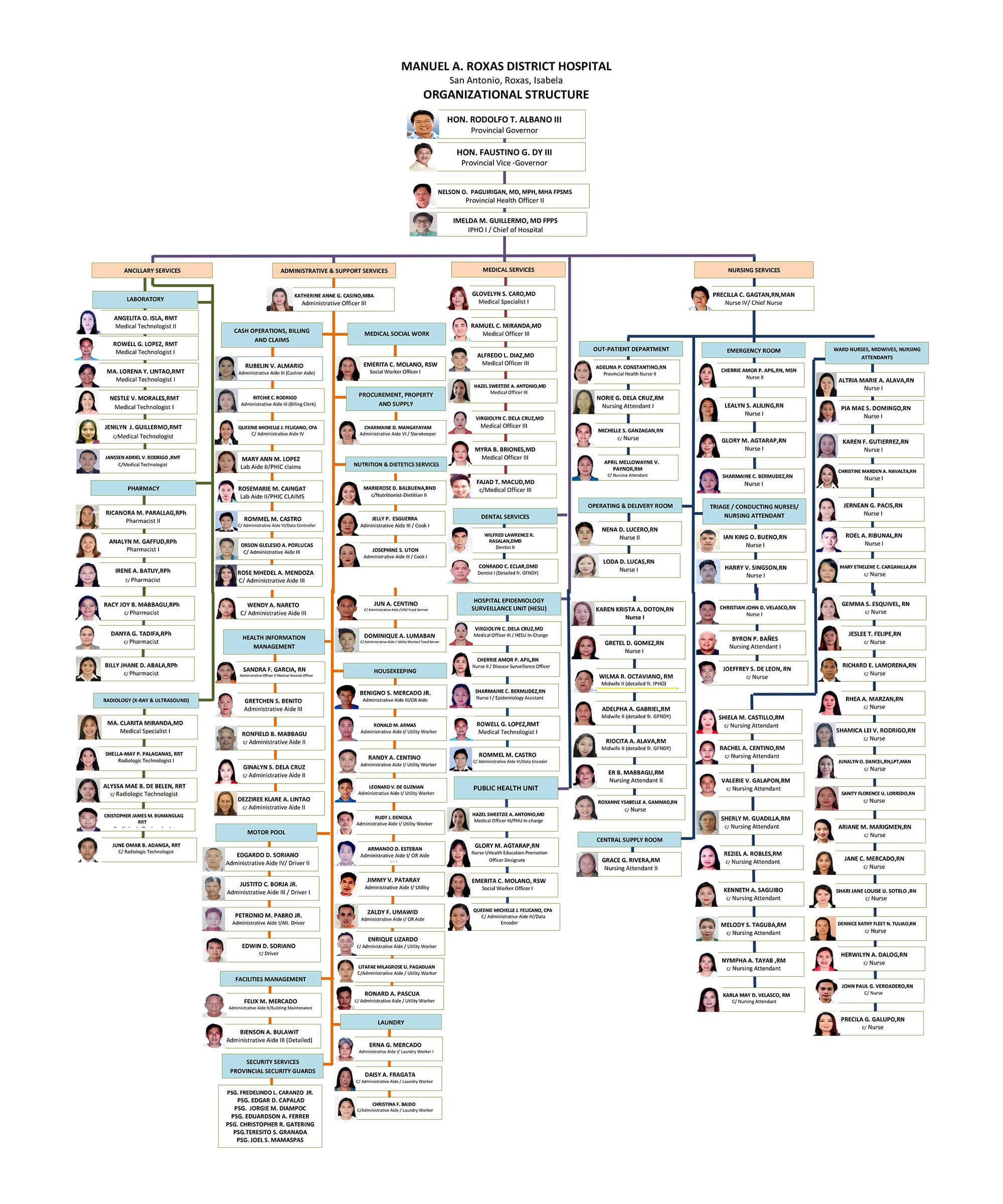 ACCOMPLISHMENT REPORT
2023
2022
2021
2018
2017
MONTHLY INVENTORY REPORT
2023
Inventory of Drugs and Medicines
Inventory of Medical Supplies
2022
Inventory of Drugs and Medicines
Inventory of Medical Supplies
2021
Inventory of Drugs and Medicines
Inventory of Medical Supplies
2020
Inventory of Drugs and Medicines
Inventory of Medical Supplies
---
PICTURES
Manuel A. Roxas District Hospital Improvements
The Manuel A. Roxas District Hospital
Activities
Bambanti
Last Quarter Assembly
Medical Mission
Todas Dengue